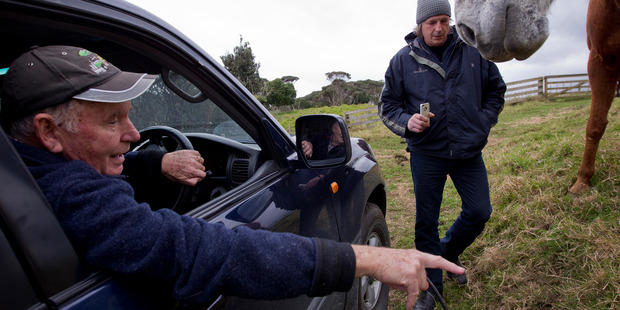 A farmer who bought land owned by Auckland lawyer Barry Hart at a mortgagee sale is being kept from the property by a convicted criminal.
Jamie Lockett, who has a string of convictions, has parked his car on the Waimauku property at the back of Mr Hart's home for three days to keep the new owners - the barrister's next-door neighbours - off the land.
Police were called twice yesterday, but said they were powerless to remove Lockett because it was a "civil case".
The new owners, former Rodney deputy mayor David Steele, 75, and his wife Joy, 71, were told they had to seek a judge's ruling on who owns the land.
The couple bought the 40ha block for $800,000 on August 9, and say Mr Hart moved his stock on to it the same day.
They say he claimed to be leasing the property, and put padlocks and chains on the fences.
Mr Steele said his son gave letters to Mr Hart at the bottom of his driveway on two occasions, asking him to remove his stock.
The second letter gave him 48 hours' notice, and yesterday Mr Steele and his two sons went on the land to remove the cows, sheep and horses.
But they say Lockett told them to leave.
"He said, 'If you don't get off, you're asking for trouble'. I told him he couldn't trespass us because we own it.
"He said, 'I'm Jamie Lockett and I'm here to put you out'."
When Mr Steele drove onto the land with the Herald yesterday, Lockett threatened trespass and said he would "handle you off the property", before yelling obscenities at the reporter and photographer.
He would not answer questions about why he was there or who had sent him.
Lockett's convictions include assault, and he was arrested over the military-style training camps in the Urewera Ranges in the Bay of Plenty.
The charges were dropped after a Supreme Court decision ruled crucial police evidence was inadmissible.
Mr Hart's $26 million property portfolio was sold in a mortgagee sale, debt collectors seized luxury cars and a company he owned was put into liquidation over an unpaid tax bill.
The criminal barrister owed his bank $30 million and was being charged $200,000 a month in interest.
Mr Hart has been found guilty of professional misconduct in a Lawyers and Conveyancers Disciplinary Tribunal hearing over claims that he overcharged clients for his services.
He is now awaiting a decision on whether he will be struck off.
He did not return calls last night.