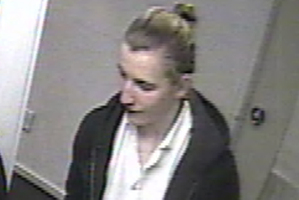 A suspected burglar was caught on camera holding a DNA-laden coffee cup which he left at the scene of the alleged break-in.
The man was caught on security camera leaving a lift in an apartment building on Symonds St, central Auckland, on August 10. He was with a woman, identified by police as a prolific criminal, currently on bail and facing burglary charges.
However, police have not yet put a name to the man's face. He was photographed entering a lift in the building with the woman at about 9.40pm. He was filmed drinking out of a white ceramic mug. The pair got out of the lift as a woman left her apartment.
Constable John Goddard said the woman went to speak to a friend who lived in a neighbouring apartment, leaving her front door closed but not locked.
"She returned 20 minutes later to find various items missing ... including a Sony Ericsson Xperia cellphone, Olympus camera and USB stick," Mr Goddard said.
"Sitting on the bench top was the coffee cup the male [suspect] was seen drinking from."
Police collected a DNA sample from the mug but there was no match in their database. Mr Goddard was appealing to anyone who recognised the man to come forward.
"It looks as though the male may have been known to people as he is seen talking to various people as they enter and exit the lift. We have been unable to identify who he is."
Mr Goddard said neither the man nor the woman he was with lived in the apartment building. The woman was recently remanded on bail to an address elsewhere in Auckland.
She has not been charged in relation to the Symonds St burglary at this stage.
It is not unusual for burglars to target apartment buildings in the central city - even without keys or access cards.
Many enter the building at the same time as residents, "tailing" them inside and lurking around looking for unlocked doors. Others ring the apartment buzzer, claim to be there to see a resident and get let in by someone believing their story.
Apartment dwellers were urged not to let anyone inside if they didn't have a key or access card. They should also make sure they were not followed into their building by making sure the door shut firmly behind them, and not buzz in any unknown people.
* If you recognise this man contact Constable John Goddard immediately at the Auckland central police station on (09) 302 6400. Alternatively, contact Crimestoppers anonymously on 0800 555 111.