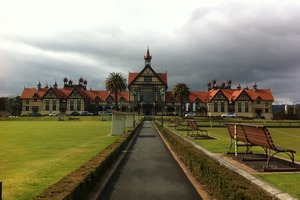 'Ashvegas' has hit back at its northern rival - trading jibes with Rotorua over the provincial towns' tongue in cheek nicknames.
And with the battle lines drawn - the fight is now on between Asburton and 'Rotovegas' for the right to the desert gambling mecca's moniker.
Rotovegas threw down the gauntlet earlier this week and ruffled southern feathers after Ashvegas sought to cement the title for some quirky PR.
Rotorua councillor Karen Hunt claimed the South Island town had little to boast about - no geysers (which Ashburton locals say thankfully equates to no Rotovirus like sulphur smells). Ashvegas residents also bristled at suggestions their town lacked mountain biking, lakes or much in the way of outdoor activities.
Mayor Angus McKay said he was stunned when he read Ms Hunt's comments, suggesting she had never ventured outside her city boundaries and that it was time she headed south.
"She's obviously never heard of our world renowned skifield, our magnificent scenery, beautiful back country lakes and some of the best downhill mountain bike tracks in New Zealand, back country bike trails, world renowned braided rivers and fishing, heli-skiing. She needs to get down here and have a look. Come see the mayor."
When it came to adopting Ashvegas, he was relaxed about the outcome.
"I'll be satisfied with whatever people settle on."
How Ashburton earned itself the Ashvegas tag, or when that moniker arrived is unclear. Some say it started among Ashburton students of the 1980s, others are not sure, but for want of a confirmed date, folklore seems to credit those college kids, now today's conventional mums, dads and high fliers.
That would mean the Ashvegas nickname had been in use for more than 30 years.
Beat that Rotorua!
The fight for the right to Vegas meant Experience Mid Canterbury chief executive Nigel Birt was hot property yesterday with radio stations around New Zealand. Auckland had all ears tuned to Ashburton.
Mr Birt was not happy with Rotorua slagging Ashburton as a place that had nothing worth promoting.
"We have some good stuff here, some great assets and great natural assets. They obviously don't know what we've got down here."
Ashburton didn't go seeking its Ashvegas title, the name found Ashburton, he said.
"People push it on us, the out of towners use it. It's not like we're making the name up, it's already there."
He saw the Ashvegas tag as a fun way of promoting the district - without casinos and without gambling.
"We've had a good old laugh on radio, it was pretty light-hearted and it was great PR."
For the name Ashvegas to gain any traction as a marketing tool, there would have to be good community buy in, Mr Birt said.
"If the community does that then it would be marketable, if it doesn't, then we just carry on as we are. It's a fun way of getting a bit of exposure. Yes there are critics, but at the end of the day we have to keep coming up with quirky ideas to promote the district."