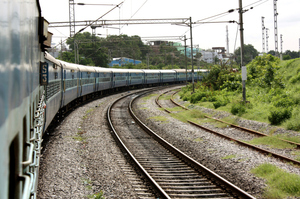 Supporters of the Gisborne-Hawkes Bay rail line will stage a protest rally outside Gisborne MP Anne Tolley's office tomorrow.
The protest is being organised by Gisborne Rail Action Group and follows a petition with 10,480 signatures asking the Government to fix the line after major storm damage. The petition was rejected.
Rail supporters say Mrs Tolley has not supported the region, especially on the rail issue and they want the Government to decide whether it will be fixed.
Responding to the criticisms, Mrs Tolley said she "completely understood" the feelings of angst in the Gisborne-Hawke's Bay region about the future of the rail link
The petition, signed by thousands of concerned residents, was accepted by her as the district's elected MP at Parliament, and she was also disappointed the transport select committee did not investigate it further.
"I am as frustrated as everyone else but I continue to work hard, meeting and talking to ministers.
"I can assure everyone that every possible avenue is being explored before a final decision is made."
Mrs Tolley will not be at tomorrow's rally because of long-standing commitments in Whakatane.
Organisers say the protest rally, from midday outside Mrs Tolley's Gladstone Rd office, will include Gisborne Mayor Meng Foon and Deputy Mayor Nona Aston, Hawke's Bay Regional Transport Committee members, MPs and business leaders.
- The Gisborne Herald