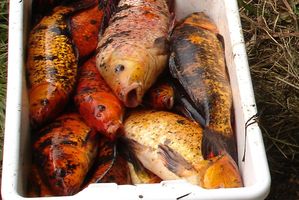 Investigations are under way into an infestation of more than 100 banned koi carp in two Kaipara ponds.
The fish are some of New Zealand and Australia's worst freshwater pest fish, sucking up everything from fish eggs to juvenile fish, and destroying native plant and fish habitat.
Since the discovery of the fish earlier this month, 104 carp have been recovered from one of the ponds on a Pahi dairy farm, and destroyed.
Northland Regional Council biosecurity senior programme manager Don McKenzie said some of the fish caught had been female, with an autopsy revealing one 2.5kg fish alone had contained about 250 grams of eggs - that's roughly 100,000 potential offspring. Some of the fish weighed almost 3kg.
Koi carp are thought to have accidentally been imported to New Zealand around 40 years ago as part of a goldfish assignment.
Just how the banned fish came to be in the ponds is still being investigated, but initial inquiries indicate they had been there for several years, before the current owner bought the property.
Meanwhile, the NRC is waiting to hear back from the Auckland Council regarding a tighter strategy to control the nationwide spread of the Mediterranean fanworm Sabella and the highly invasive seaweed Undaria.
An infection of the pests in Northland has been tracked to Auckland.
NRC chair Craig Brown had written to Auckland Council outlining the committee's concerns and asking for ways of reducing the risk of marine pest spread to be investigated.
The pests were a serious risk to Northland.
Don McKenzie said Northland boat owners could do their bit to help lower the risk of the pests' spread by ensuring their hulls were cleaned regularly, and anti-fouled once a year.
For more articles from this region, go to Northern Advocate