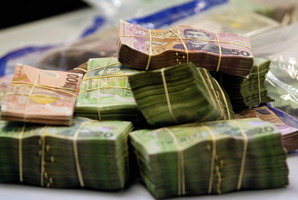 Nearly $80 million of suspected criminal assets frozen by court orders - and a further $17.5 million worth already seized - has been described by police as the "tip of the iceberg".
Multimillion-dollar homes, high-performance cars, motorcycles, cash, boats, artwork and jewellery are among the valuables seized since new laws to fight organised crime came into force less than three years ago.
There are 590 assets held under the Criminal Proceeds (Recovery) Act estimated to be worth $78 million. They include 104 residential properties, 229 bank accounts or cash, 116 cars and 40 motorcycles.
The single most valuable item is a $5.8 million farm in the Waikato, according to figures obtained under the Official Information Act.
The most assets seized in a single case were worth $20.5 million, taken from the 12-month Operation Ark into the alleged manufacture and distribution of Ecstasy analogue pills.
One of the 25 cars seized was a new Bentley worth $400,000.
These cases are before the courts and are determined by the civil level of proof, the "balance of probabilities", rather than the much higher criminal evidential threshold of "beyond reasonable doubt".
The onus is now on defendants to prove how assets were paid for, so the restrained assets can still be forfeited even if someone is acquitted of criminal offending.
On top of the $78 million now frozen, a further $17.5 million has been forfeited.
The largest seizure includes nearly $2.5 million of drug money found in a foreign exchange shop opposite SkyCity casino in central Auckland.
Detectives in Operation Ice Age bugged the business owner, who regularly met kingpin Tac Kin Voong at SkyCity, where Voong gambled nearly $11 million as a high-roller in just six months.
In another case, two Mercedes-Benz cars and a Porsche were forfeited by Paul Szeto even though he was acquitted on methamphetamine and money laundering charges.
The head of the police financial crime group, Detective Superintendent Peter Devoy, said the seizure law had been "extremely successful in the goal of disrupting, deterring and derailing serious and organised crime".
But he predicted that the "staggering" numbers would rise even further as other law enforcement agencies began to make more use of the legislation and police unravelled evolving money laundering techniques.
"This is the tip of the iceberg."
Organised crime was about making money and Mr Devoy said the methods of money laundering were constantly evolving.
Criminal syndicates were now employing the skills of professionals "savvy" with money but completely separate from the criminal activity, said Mr Devoy.
"These specialists are involved in moving the money and the money side of the business.
"This is a new trend we have been warned about by overseas enforcement agencies and are beginning to see here."
He said the introduction of the Anti-Money Laundering and Countering the Financing of Terrorism Act next year would help to close the loopholes that exist.