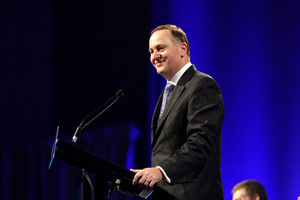 New Zealand's dancing, mincing, joking Prime Minister appears to have met his match in his Cook Islands counterpart, Henry Puna, who at the opening of the Pacific Islands Forum last night proved he could belt out a tune and crack a joke at the expense of his fellow leaders.
John Key and the 14 other Pacific leaders at the forum were carried into the opening ceremony last night on special pa'ata (platforms) carried by muscular warriors.
Some were clearly uncomfortable about the mode of transport, which could easily have lurched into a photo op nightmare.
When he spoke later, Mr Puna went out of his way to thank his fellow leaders for going ahead with it despite some reservations. But he had some fun at their expense.
"I have to say, the male leaders, when they alighted from the pa'ata, were very white and pale."
Mr Puna also kicked off his chairmanship of the forum in rather unconventional style by singing a song to the leaders, while a white-clad woman danced before them. It did at least jolt Foreign Minister Murray McCully out of a state of boredom.
While Mr Key is prone to dancing and joking on occasion himself, Mr Puna can sing well. The best Mr Key could do to match him was to get into the mood by cracking out a silly shirt early - he spent his day in an island-style shirt two days before forum tradition requires it.