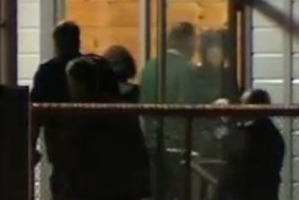 Convicted sex offender Stewart Murray Wilson is "apprehensive" about his first taste of freedom and doesn't want to go out into the community for some time, Corrections says.
Wilson was released from Whanganui Prison at 6am today after serving 18 years of a 21-year sentence for sexual offending against women and girls including rape, indecent assault, stupefying, wilful ill-treatment of a child and bestiality.
Yesterday was the first day of Wilson's three-year parole period which will be followed by a 10-year extended supervision period.
Six prison guards accompanied Wilson, 65, in a van as it travelled about 1km from the prison's main building for the start of his release.
Wilson, wearing a green jersey, avoided the throng of gathered media beside the prison fence as he was escorted into self-care unit No 5 just outside the prison.
Nothing was seen of Wilson after he entered his unit other than the occasional glance from behind a curtain.
Brendan Anstiss of Corrections said Wilson was nervous about his release.
"I can tell you he is apprehensive, as you would expect after 18 years in prison. He said to my staff that he intends to remain quiet and keep to himself.
"He does not want to have a profile."
Dr Anstiss said Wilson spent a lot of time being briefed on his parole conditions by Corrections staff.
"Mr Wilson has an extensive list of parole conditions and it will take a couple of days to explain these all thoroughly to him," Dr Anstiss said.
He said Wilson would live temporarily in one of five self-care units until his house was made available in about a month's time.
"The unit is a standard four-bedroom self-care. It's pretty sparse - it has a kitchen, laundry, single bed, couch and television."
Wilson's neighbours in the self-care units seemed interested in the presence of both Wilson and the media, with many of them to be seen in the communal courtyard.
Wilson's unit was screened off with black polythene sheets to ensure privacy from his neighbours and the media. There was a large but low-key police presence in the area.
The only unusual incident happened around 9.30am when a carload of people drove by shouting abuse at Wilson.
Dr Anstiss said Wilson was "one of the more challenging" prisoners Corrections had dealt with, and staff were now committed to ensuring Wilson does not have the opportunity to re-offend.
"I can assure you our staff will walk over broken glass to ensure the safety of the community," Dr Anstiss said.
Vivien Whelan of the Probation Service said two of the most experienced probation staff would be dealing with Wilson.
She said he had so far been co-operative with staff and had not offered any resistance to his parole conditions.
"He does not want to go into the community at this time. He is happy in his current accommodation and just wants to stay there," she said.
John Sturmey was one of the few members of the public to join the crowd of media yesterday. He arrived around 9am and intended to stay all day.
"I just want to catch a glimpse of him. And I want to help keep any members of the community who come down here out of trouble.
"We don't need that - we need to stand in harmony against this man," Mr Sturmey said.
For more articles from this region, go to Wanganui Chronicle