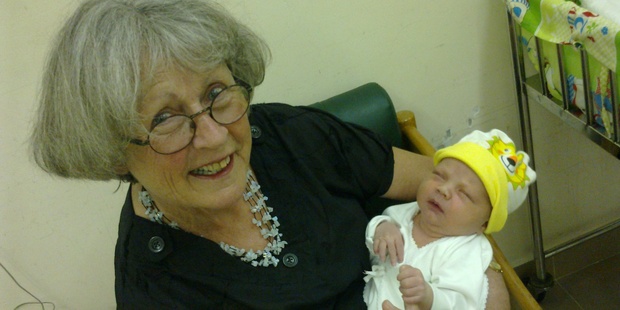 A newborn critically injured in a fall in Vietnam while being held by his grandmother is showing positive signs of recovery.
Four-day-old Carter Preston remains in a critical condition with bleeding on the brain in Ho Chi Minh Children's Hospital following the incident last Friday.
Julie Ferne was staying with family in Ho Chi Minh City when she fell 6.7 metres down a staircase and landed on a marble floor with her grandson Carter in her arms.
Ms Ferne died shortly afterwards in hospital.
Three days later Carter opened his eyes, but there was still a lot of pressure on his brain and his family were waiting for his condition to stabilise, his uncle Stefan Preston wrote on his Facebook page.
Today he took another step forward, Mr Preston wrote.
"Carter's Doctor has phoned us to say that Carter woke this evening and started to move his arms and legs. Then gave a bit of a cry. We take this as a very positive step.
It seems everyday Carter has been able to make another step towards recovery."
Carter's father Phil Preston, and his brothers, Stefan and Sean, revealed details of the accident on Friday in a statement today.
"Carter is continuing to fight and all our thoughts and well wishes are with his recovery. Kia kaha little man," they wrote.
The family was working with the New Zealand Consulate to arrange the return of Ms Ferne's body.
"We would like to thank everyone in New Zealand and around the world for their prayers, support and well wishes.
"Many people have asked if there is anything that they can do to help. Mum spoke to us before she died about the poverty in Vietnam and her desire to contribute.
"To illustrate this situation, in the same ward as Carter at Ho Chi Minh City Children's Hospital is a young baby with a heart condition.
"In the last few days that we have been here the baby's parents have been taking shifts constantly hand pumping his ventilator to keep their child alive, as the hospital does not have the automated equipment to do this."
Family and friends in New Zealand and Vietnam have posted tributes and prayers for the Preston family on Phil Preston's Facebook page.
Julie Ferne was described as a "great lady" and "true spirit".
Her grand-daughter Alexia Preston also wrote about her hopes for Carter's recovery.
"I know he got this, he's in the Preston blood, the strong kind we are. For Nana, we've all got to remember to not cry because its over, but smile because it happened. She died a true spirit. Much love, for Carter and everyone with you."
Julie Fern's funeral will be held on the North Shore, Auckland.
The family has set up a trust fund to "ensure that something good comes from this tragedy and in the memory of our mum".
Donations to the fund will raise money for hospital equipment at Ho Chi Minh Children's Hospital.
* People wishing to donate to the Julie Ferne Memorial Trust can deposit funds to ASB account 12-3198-0065427-00.
- APNZ