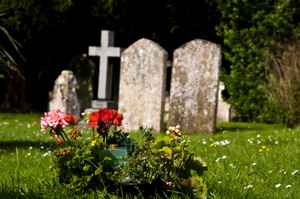 About 10 families are waiting to bury their loved ones as the closure of Gisborne's Taruheru Cemetery stretches into its fourth week.
There is still no indication when the Nelson Road graveyard will re-open after the wettest July in 23 years left the sandy soil waterlogged.
Evans funeral director David Parker does not want to give families false hope and said it could be another two weeks before burials could begin again.
Every time it rained, "it didn't help" and the watertable was going down slowly, he said.
A 20 centimetre drop is still required - in some places more, in some places less, said Mr Parker.
Some families had taken the cremation option when they would normally not do so, he said.
"Everyone is understanding of the situation and people are showing such tolerance and generosity.
"We have some people from out of town who want to come back for a burial."
Mr Parker said at a funeral he held last week, the family were told that it could be as early as the middle of next week before they could bury their loved one.
But a family spokesman declined the offer.
"He told me they were quite happy to wait because there were others who were waiting in front of them. He said how long it takes is how long it takes.
"When it does re-open, we have plans to contact the families and it won't be rushed. Everyone will have their own space."
Miriam Swarbrick's husband of more than 50 years, Geoff Swarbrick, died three weeks ago and the family is waiting patiently for him to be buried.
"It's out of our hands and we cannot do anything about it - that makes it easier to accept.
"Only God knows when it's going to stop raining and when the water will go down. We can't stop the rain, so to be honest we are just going day by day."
Mrs Swarbrick said family were planning to return to Gisborne for the private burial.
"I'm sure for some people it could be really difficult but I just believe he has gone to a better place anyway. He was a great man and I have all those wonderful years and memories."
Mr Parker said it was the first time a cemetery has had to close for this length of time in Gisborne but he did remember it closing for a couple of days over Cyclone Bola in 1988.
Gisborne District Council commercial property manager Matt Feisst said there was a "slight improvement" in conditions at Taruheru Cemetery over the weekend.
The site was monitored twice-daily.
Evans Funeral Services are looking after bodies in a dignified manner until conditions improve and burials can continue.
Mr Parker said they had plans in place for these situations to ensure facilities were available for bodies to be stored.