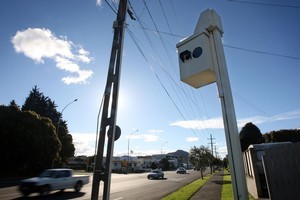 A $10 million road safety funding boost could see the number of speed cameras double over the next three years.
The Government will today announce extra funding for speed cameras as part of its National Land Transport Programme.
New Zealand Transport Agency (NZTA) spokesman Andy Knackstedt said $10m for more speed cameras would be set aside within the road policing component of the programme over the next three years.
The next step was for police present a business case to the NZTA which would detail how the cameras would be used and how they would target areas of risk to reduce crashes.
"It's all about crash reduction,'' Mr Knackstedt said.
Associate Transport Minister Simon Bridges said 25 more speed cameras could be bought for about $4m - which means the extra $10m could potentially double the number of cameras from the 55 currently in use.
"Just where the prices are on these things and how many $10m would buy and the mix between fixed and mobile and the latest technology, those are matters that police will clearly want to put a good business case to NZTA on,'' he told Radio New Zealand.
Among the options to be considered were point-to-point cameras - a newer technology which was already in use in the UK.
Mr Bridges said speed cameras were about saving lives rather than raising revenue.
But former police officer Hamish Piercy, who is now a road safety consultant, questioned the correlation between more cameras and reduced crashes.
"It's hard to say that we've actually seen a corresponding reduction in the road toll, especially when compared to the amount of fines collected by the cameras,'' he told Radio New Zealand.
Mr Piercy said there was a perception speed cameras were about revenue gathering.
"If anything it's going to increase that perception of the speed cameras, especially when we have low tolerance weekends on public holidays etc.''
Mary Williams, chief executive of the road safety charity Brake, said research had proved speed cameras were "incredibly effective'' at slowing down traffic, resulting in fewer casualties.
"The evidence is absolutely overwhelming, not just in terms of the lives that are saved by speed cameras, but also in terms of the efficiency and effectiveness of it,'' she told Radio New Zealand.
Ms Williams has called for speed camera revenues to be ring-fenced for road safety measures including pavements, off-road cycleways and "other measures to protect vulnerable road users''.
- APNZ