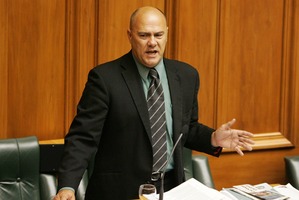 MPs are finally settling on which way they will vote on gay marriage, but some have been more successful than others at explaining why.
National List MP Tau Henare was crystal-clear about his support for the bill yesterday. But his metaphor for marriage equality was not.
"It's a bit like The Wizard of Oz. The tin man goes to the Wizard of Oz, wants a heart ... or is it the straw man? One of them.
"The Wizard gives him a certificate, basically, but at the end of the day, you practice what you will. At the end of the day, he already has a heart, he already has a brain."
He later clarified to bemused reporters: "If people want it, they should be allowed to. Is the sky going to fall in tomorrow? Of course it's not."
Building and Construction Minister Maurice Williamson was dismissive about the arguments against gay marriage.
"Someone said to me at a meeting the other night, 'Well, this might mean eventually you can end up marrying your dog', and I said again, 'this affects me how?'
"As long as they keep the dog off my lawn I don't care."
National MP for Hunua, Paul Hutchison, on the other hand, will vote against the bill this evening. He said New Zealand's laws were liberal enough. "I've always thought that if Oscar Wilde was alive today, he would think the options available to him, in my view, are quite extraordinarily open.
He added: "I think he would find it pretty good."
Labour MP Damien O'Connor was going against not only his caucus but his own family over his decision to oppose the same-sex marriage bill. His daughter has urged him to change his mind.
"She disagrees [with me] and she comes from an age where there's a different view," he said.
Nearly all MPs at least hinted which way they were leaning yesterday. Transport Minister Gerry Brownlee, however, was giving nothing away: "I don't want to be lobbied. I can't be bothered."