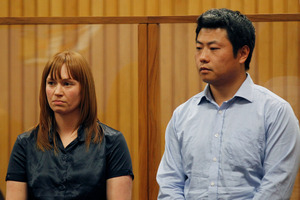 How would you react if you found millions of dollars that were not yours? When Westpac Bank mistakenly gave Leo Gao a $10 million overdraft, he and Kara Hurring took the money and ran. David Fisher reports on newly released court files showing how they handled their new-found 'fortune'.
Runaway millionaire Leo Gao was so hysterical in the moments after $10 million was accidentally put into his bank account that Kara Hurring tried slapping sense into him, new court papers have detailed.
The excitement began the moment he found the money in his account and led to threats to leave girlfriend Hurring in the days before the couple skipped the country.
Hurring and Gao have been convicted for their role in the disappearance of $6.7 million - the bank clawed back $3.3 million of the accidentally transferred cash. Hurring got nine months' home detention and Gao got four years and seven months in prison. Still missing is $3.8 million.
Statements released by the court describe how Gao was making a late-night check on a payment from a boarder when he saw Westpac's massive overpayment.
The couple's boarder, Bianca Taute, said she had just switched from paying her rent in cash to making an online automatic deposit.
She was sitting in the sparsely furnished flat with Hurring while Gao went to the couple's bedroom to check his bank account using a laptop at about 11pm on April 21, 2009.
She said Gao called Hurring into the bedroom before he started shouting, "I'm ****ing rich. I've got $10 million." When Ms Taute, a teacher, walked into their bedroom she was shown the computer screen, which was open on Westpac's online banking system. The $10 million deposit was clearly seen - although the balance was less than that because Gao's business account was already in debt.
"Leo was jumping around on the bed yelling, 'I've got 10 million dollars'. Kara was trying to calm him down.
"He then started asking me questions about how much he could take out. I told him that he [wouldn't] be able to get out $10 million."
Gao then offered Ms Taute $50,000 if she could help him move the money. He asked her, "How do you think we can open an offshore account?"
Hurring's daughter, Leena, had woken from the campbed she slept on because of the noise.
Ms Taute said the couple were financially stretched: "I would have more furniture in my room than they would have had in the rest of the house."
She was asked to look after Leena while Gao and Hurring left the house. When they returned with icecream and cheesecake, Hurring was crying.
Hurring said Gao had "caused a stir" at the supermarket, telling people about the money in his account.
"She told him to be quiet and slapped him." Then - in a statement later confirmed by Gao - the instant millionaire told Hurring he would leave her that night if only he could get the $10 million out of the bank.
Ms Taute said: "He just thought what he had told her was a joke; he was laughing about it.
"Kara was upset and she said, 'Look at him, he's gone crazy'."
When Ms Taute said she was going to bed because she had work the next day, Hurring said to her: "But you will never have to teach again."
Gao then said: "You can come with us and teach Leena."
The next morning, Ms Taute looked for the couple before going to work. She found Hurring, who said she had managed to get Gao to go to work. The couple had takeaways and brandy with friends that night to celebrate, and remained in Rotorua a few more days.
On Anzac Day, Hurring told Ms Taute he and Hurring were going to Auckland with Leena for the night.
It was the last time she saw them - but she did receive a text a few days later asking how the cat was.
On May 3, Ms Taute said, she spoke to Hurring and was told she had broken up with Gao. She last heard from Hurring early on May 11 - a Monday - saying she had passed up the tenancy. Hurring then disconnected the power, internet and telephone accounts.