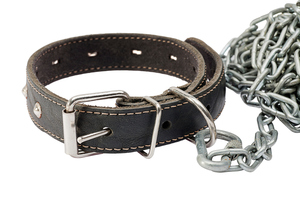 The "sick" and "senseless" death of a dog dragged at least 4km behind a vehicle has horrified a motorist who tried to save the animal.
Gabrielle Crosby was driving near Masterton on Sunday afternoon when she saw a white ute travelling in the opposite direction pulling a dog by a long lead. She made an immediate u-turn and followed.
"I honked my horn. I flashed my lights. I started screaming but they didn't stop. It was a nightmare," she said. "I don't know how long the dog was out of the ute for. I followed them for about 4 or 5km. The dog was trying to run to keep up, but it was being dragged."
A farmer driving a tractor along the road also tried to alert the ute's driver, but to no avail, Mrs Crosby said.
She caught up with the ute near sewage ponds at Homebush.
As she was about to pass it to force the driver to stop, the dog's collar broke. She could not avoid hitting the animal, which may have been a bearded huntaway.
"Thankfully, it was killed instantly," she said.
The tractor driver and Mrs Crosby consoled each other where the dog died but the ute kept going.
"The driver didn't stop at all. They don't know how their carelessness caused the horrible death of their dog," she said.
"It was a sick way for a dog to die. It was just senseless."
Mrs Crosby alerted the SPCA.
Masterton animal welfare officer Lesley Gibson said that when she arrived at the site yesterday, the dog was nowhere to be seen.
However, workers at the sewage ponds said it had been there when they arrived that morning.
"We want to find out who the driver was. It was a horrendous situation," Mrs Gibson said.
She said Mrs Crosby did everything she could.
"It was actually a blessing in disguise that she hit the dog.
"If dogs are going to be carried on the back of utes they need to be tied on in such a way that they can't fall off the edge."
Anyone with information about the dog or the ute driver should contact Masterton SPCA on (06) 377-1912.