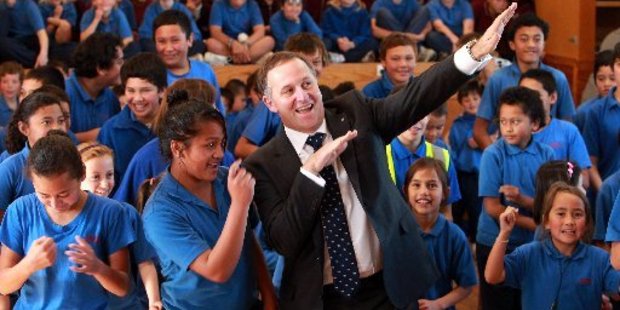 Stories making headlines across New Zealand at noon include a film-maker learning free speech comes with the risk of rape and murder threats on Facebook, John Key gets his dancing shoes on, and a boy racer who is lucky he wasn't killed.
After making some proverbial "foot-in-your-mouth" comments on Facebook, a Hawke's Bay woman was confronted by a modern day lynch mob.
Being what some may say is a challenged dancer didn't stop Prime Minister John Key gate crashing a performance by 100 students from Nuhaka school while a reporter gleefully filmed away.
Meanwhile during some 'meaningless destruction' at the Dunedin Big Cruise a car slammed into three fences, a Toyota Prado and flipped around before catching fire after its petrol tank was punctured.
People are being urged to leave the seals alone.
More than 250 people are on the run from the Bay of Plenty police. There are nearly 800 in the Wanganui region.
Bay of Plenty residents are most concerned about earthquakes and tsunamis but that's not the most serious risk to the region.
A well known New Zealand actress has been fined and disqualified from driving for six months.
Former Steamers player Simon Chisholm was punched unconscious during a premier-grade match.
Ruakura is planning to become a massive rail-truck freight hub, inland container port and sprawling industrial and commercial site.
Civilian anti-tagging units are being suggested to patrol the streets of Rotorua.
A new KiwiRail report is another nail in the coffin for the Gisborne to Hawke's Bay rail line.
Fisherman Steve Morris is tearing around the Central Hawke's Bay coastline on his jet ski with a camera trying to find fishing trawlers.
Joshua Sinclair started sobbing as he heard how the man he had set upon in a vicious and unprovoked attack had to have a metal plate inserted to hold his eye socket together.
If you've got a spare $1000 you can buy a book about David Bowie.
There's no such thing as a free bus ride for many pupils at Masterton's Wainuioru School any more.
Ashburton professional cyclist Hayden Roulston is questioning the credibility of his sport.
The woman considered the mother of modern dance in New Zealand has been in a serious car crash.
Firefighters raced up and down Coronet Peak carrying 8kg of fire-fighting equipment without a fire in sight.
Six West Coast women slept on, blissfully unaware that a burglar was robbing them blind in a Hamilton motel unit.
The last Jennings to have lived in Karamea is trying to work out how the family's 500-year family tree ended up in an attic on Waiheke Island.
Top trending topics on Twitter in NZ at Noon include #OUTweCon, Lydia Ko, #fab8nz, #mustbehungry, LPGA Tour, Canadian Open, Kiwi, Auckland, Facebook and New Zealand.