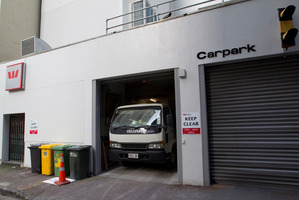 An Auckland woman was robbed at gunpoint of a $20,000 jewellery collection from a bank's secure carpark as she went to put it in a safe deposit box.
Hillsborough woman Sunita, who did not want her last name used because she is scared the gunman will find her, drove into a secure carpark in the central city on Saturday morning on her way to put her collection of rings into a Westpac Bank safety deposit box.
She says she was confronted by a masked man armed with a pistol as she got out of her car at the carpark which is accessed from Mills Lane, off Queen Street.
"As soon as I parked and was in the process of getting out of the car the offender appeared with a pistol in his hand.
"I was terrified ... first he asked me for the money then snatched my bag and took my car keys which he threw on the other side and ran away."
Inside her bag were 17 of her most prized rings, which she estimated to be worth at least $20,000.
Sunita, 52, said among the rings stolen were some given to her by her husband.
He gave her a ring nearly every year of their 31-year marriage and she said her biggest pride was collecting them.
"The most special was a gift for our silver anniversary, it had a single diamond and was a very modern piece," she said.
The rings were insured but Sunita said their sentimental value was far higher.
"Some of them are from our travels, they all have very special memories for me."
Sunita has more than 20 rings - several were already in the safety deposit box and only a few are now at her home.
"I am devastated they are gone, almost my whole collection just gone," she said.
Also in her bag were her wallet and cellphone.
Trapped in the underground carpark, Sunita spent five minutes screaming for help and tried to set off the fire alarm before finding three men on another level of the building who called the police for her.
She said her husband did not mind her going alone to the deposit box, which she has had for 15 years, because he believed it was safe, but he was upset her life has been risked.
Police believe the robber may have followed a car into the carpark. Sunita believed the robbery could have been avoided if the bank had better security.
"I am shocked something like this could happen in a secure carpark where you have to use swipe cards to get in and out," she said.
"There is a big question mark for the security and safety of box-holders after something like this happens."
A sign outside the lower Queen St Westpac branch yesterday said the safe deposit box centre was closed until Monday because of an incident. Westpac spokesman Chris Mirams said the bank had strict security procedures, guards and CCTV systems but would review its processes after the robbery.
Mr Mirams said the carpark was also used by other occupants of the building but safe deposit box customers had their own "access and exit methods".
He could not say if there had been other thefts in Westpac carparks or how many safe deposit box sites there were in New Zealand.
Westpac had been in contact with Sunita and would continue to support her this week.
Detective Sergeant Scott Hunter confirmed a robbery had taken place but could not confirm if the offender had a gun.
Investigators were reviewing CCTV footage from the scene.
It is not known how the robber gained access to the carpark but Mr Hunter said he probably "shadowed in" after a car.
"Most people just head down into the carpark without checking in their mirror to see if anyone has followed."
The man was described as a 35- to 45-year-old man, about 1.8m tall and of slight to medium build.
He was wearing a grey/khaki balaclava, a black jacket and white shoes.
CAN YOU HELP?
Police would like to hear from anyone with information or who was near the Mills Lane carpark about 10.30am on Saturday. Call Auckland central police station or Crime Stoppers on 0800 555 111.
- APNZ