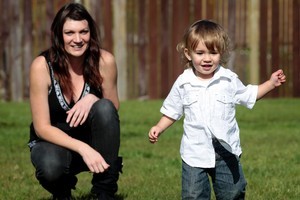 Jethro Morrow likes to play with playdough and painting while he's getting life-saving plasma transplants because his kidneys don't work.
The 2-year-old from Auckland is the only person in New Zealand and one of the youngest people in the world to be diagnosed with an extremely rare and incurable disease, Hemolytic Uremic Syndrome.
The ultra-rare genetic condition effects the blood and causes chronic and progressive life-threatening kidney failure.
The only shot he has at a long life is a $500,000 a year experimental drug called Solaris which has been approved in the United States for children in Jethro's condition. However, it is not funded by Pharmac because of the cost.
And so friends and family of Jethro's parents, Shannon Gantley and Louis Morrow, have been rallying to raise money for the drug themselves.
So far they've collected $50,000.
Mr Morrow's girlfriend, Holly McQuilkan, is one of the people heading the efforts.
"We've got someone with big ties in the music industry, mainly rock, so we've organised some rock gigs ... we've got one coming up in Auckland next weekend."
They held a similar concert in Auckland last year for Jethro, but Ms McQuilkan said this one was shaping up to be much bigger.
There are also auctions on Trade Me and special teddy bears for sale to help get the toddler his medication.
"It's just so ongoing, you have to think of absolutely everything to keep people interested, that's the hard part," she said.
Luckily Jethro hasn't had any relapses recently and the weekly plasma transplants are keeping him stable.
"We're just not looking forward to the day that it will stop working, when he'll eventually become immune to it," Ms McQuilkan said.
When the Herald talked to Jethro's mum last year, Ms Gantley said she was determined to get her son the drug because the alternative would be unthinkable.
"I'll basically watch him die. I don't know how long it will take, the specialist doesn't know how long it will take, but it'll happen," she said.
HOW TO DONATE
The Jethro Morrow Health Trust
38-9012-0102064-00
Kiwibank
ONLINE
Show your support on Jethro's Facebook page