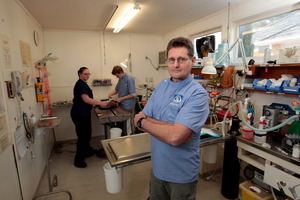 The last thing pet owners want to do when their beloved dog is on its deathbed is shop around for euthanasia prices.
But a Herald on Sunday survey shows some veterinary clinics charge three times more than others to put dogs to sleep.
In Auckland, Abbots Veterinary Clinic in Remuera charged 200 per cent more than Great South Vets in Papatoetoe to euthanase a dog which weighs up to 35kg. The quoted price of $148.60 was also 112 per cent more than Albany Animal Doctors' but only 5 per cent more than Ponsonby Vet Centre.
Vet Services in Hastings charges $55 while Hamilton Vet Services charges $115.
Abbots Veterinary Clinic director David Toomey says the quoted price was an estimate only and most of their clients are charged on a case-by-case basis, if at all.
"A lot of our clients are longstanding clients and we don't charge them anything."
He says he discourages people who want their dogs euthanased at his clinic if they are not regular clients. "Most people do it at the clinic where they have been going to for a long time, so it always makes me a bit suspicious if someone is ringing around for a price. The first questions to ask are why are they putting the dog to sleep, what are their reasons, why aren't they using their normal veterinarian?"
He says the cost involves euthanasia liquid, the time and services of a veterinarian assisted by a vet nurse, and disposal of the body.
"It should not be about who can do it as cheaply as possible. It is about who can do it with large amounts of sympathy and empathy."
Dr William Baird, of Great South Vets in Papatoetoe, says the main reason for his low price is a high turnover business plan. In 2008, Baird was losing around $500 a day while he built up his large client base.
"We are relying on quantity. The more people we get through, the cheaper we can have our prices," he says.
He says the quality of care is not lowered despite the large number of pets his vets work on.
"Whether they work in our clinic or not, we all have empathy for pets and go out of our way to cater for animals."
He says other clinics' varying prices of $80-$150 are probably reasonable for the number of animals they put down.
NZ Veterinary Association resource manager Wayne Ricketts says fees are not regulated as it would be anti-competitive and likely to draw action from the Commerce Commission.
Audacious scammers pinpointing elderly victims
Elderly people have again been warned to be alert to thieves posing as bank investigators.
Barbara Hogg's Herne Bay, Auckland, home was burgled while she was in her front garden last month.
She discovered the break-in only after a woman phoned claiming to be from the ANZ bank at Newton, saying a suspicious character had been nabbed cashing one of her cheques, for $1500.
The bogus teller then asked for Hogg's PIN number, insisting the same person was also trying to withdraw cash from her card at an ATM machine and they needed her security details to block the account.
"I was in a bit of a panic but I was still suspicious of the woman on the phone and told her I didn't give out my details to strangers." Hogg says the scammer then pretended to pass her over to someone from the bank's fraud section, who repeated the request. "As soon as the words were out of my mouth I immediately regretted it. But the women on the phone were very convincing and very slick."
Hogg says she drove to the bank where she discovered $2100 had been withdrawn.
"The bank has been fantastic and replaced the money but I am still concerned that someone had been watching my house."
Police say never give out PIN numbers over the phone.
- Herald on Sunday