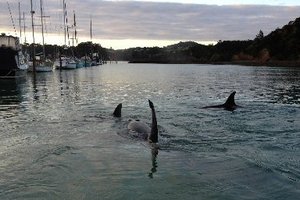 Two massive male orca whales with up to six female and juvenile companions thrilled Northland locals when they entered a local marina to hunt stingrays.
"It was so exciting. We were squealing with delight," resident Kate Malcolm said.
She and other Dive Tutukaka staff watched for about 30 minutes as the orcas split into two hunting pods to feed on stingrays and mullet about 7am yesterday.
"The orcas came right into the shallows. I was about two metres away from them," Ms Malcolm said.
Orca males can grow to 8m in length and weigh more than six tonnes. Females are generally 5-7m and weigh up to four tonnes.
Ms Malcolm had never seen orcas inside the marina during the 14 years she had been living on the Tutukaka coast.
"It was an awesome way to start the day. They were absolutely spectacular."
Ms Malcolm said the males had dorsal fins about 2m long.
Orca expert Ingrid Visser said the male with a corkscrew dorsal fin was known as Bullet because he had been shot.
"One of the others is Flean, an adult female who has a calf and who often travels with Bullet," she said.
It was the first known sighting of orcas inside Tutukaka marina.
"There were around 15 orcas at Cape Brett at the entrance to the Bay of Islands on Wednesday afternoon, and these are likely to be the same ones," she said.
"I had a call at 8am [yesterday] morning that orca were at Wellington's Bay, Ngunguru and heading along the Ngunguru sand spit - which will definitely be the same ones seen in the marina."
For more articles from this region, go to Northern Advocate