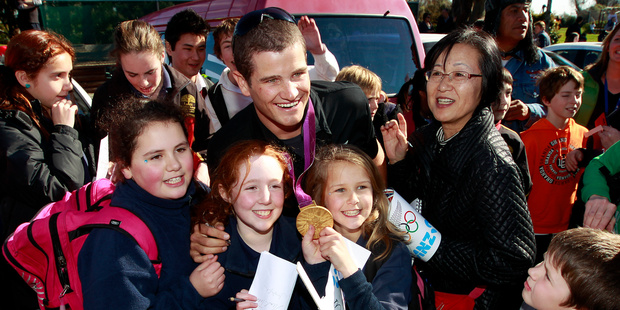 Rowing greats Hamish Bond and Eric Murray are continuing to ride their Olympic gold success by using their precious medals to cheer up cancer patients.
The London 2012 Olympic gold medallists were in Christchurch this afternoon along with 86 colleagues for an official welcome home celebration.
The athletes spread across the earthquake-damaged city to visit schools, hospitals, care facilities and businesses.
Record breakers Bond and Murray were the star turn at the Cancer Society's Daffodil House in Merivale, Christchurch.
They spent around an hour inside one of the Tudor-style motels where cancer patients stay when recovering from treatment.
The pair spoke to dozens of people, accepting every photograph request, signing hats and t-shirts, laughing and joking, and even revealing how they managed to stay calm ahead of the biggest race of their lives.
"It's our job as gold medallists to try and help people," 30-year-old Murray said.
"It's a privilege, and if we can make some people happy for a short time, then it's a great thing."
His colleague and great mate Bond said their success was not just for themselves, but the whole country.
"This is the icing on the cake, really," he said, surrounded by fans - many of whom are fighting for their lives.
"Some people here are facing some tough battles, so if we can bring some happiness to their day then it's all worth it."
Janice Harris has been staying at Daffodil House to recover after treatment.
Watching the rowing was her London 2012 highlight, so to meet the record-breaking pair "made my day," said the 63-year-old from Carters Beach, near Westport.
"It's magic to meet them both. Life has been tough but this has given me a real boost."
Thousands of supporters turned out at Pioneer Stadium, including hundreds of flag-waving children delighted to shake hands and get prized autographs from their sporting idols, who arrived on a double decker bus.
One of the first in the queue to see his heroes was eight-year-old Jarvis Liddington and his mum Olivia.
Jarvis, a keen swimmer from Addington School, said he was very proud to watch the Kiwi athletes at the Games.
"I wanted to congratulate them myself," he said.
He was especially excited at the prospect of meeting BMX medallist Sarah Walker and the rowers.
"They're my heroes. One day I'd like to go to the Olympics like them."
A moment's silence was held for the three Kiwi soldiers killed on Afghanistan on Sunday - Lance Corporal Jacinda Baker, Corporal Luke Tamatea and Private Richard Harris - before the New Zealand Army Band played the athletes into the stadium, where they received a rousing reception.
A Maori welcome greeted them onto the main stage where they proudly showed off their medals.
After the ceremony, many of the 23 medallists, including Lisa Carrington, Mahe Drysdale, and Mark Todd, mingled with fans, posed for photographs and inspired the next generation of Kiwi Olympians.
Chef de Mission Dave Currie said quake-hit Christchurch was the only city to bring the athletes to.
He said the reception from the fans was overwhelming and the athletes were proud to represent them in London.
Christchurch Mayor Bob Parker said it was "an overwhelming act of generosity" for them to be in Christchurch today.
What they went through to reach the pinnacle of their sports was an inspiration for the city trying to rebuild, he said.
- APNZ