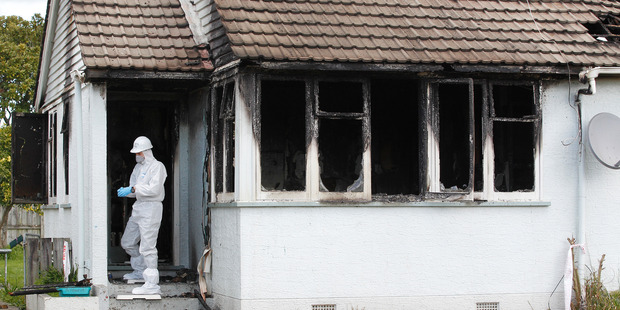 Mother-of-four Wai Tangi Matenga told friends she was being harassed by the Mongrel Mob.
Within days the 37-year-old Hamilton woman was dead and police have begun a homicide inquiry.
Ms Matenga's body was removed yesterday from her Holland Rd home, where police and fire investigators were trying to determine the cause of a fatal blaze early on Wednesday.
A friend of the dead woman's 15-year-old daughter said she and her mother believed the fire was suspicious.
The pair said Ms Matenga or her family were being pestered by the Mongrel Mob.
Another friend of Ms Matenga's, who attended a karakia outside the house yesterday, said there were rumours she was being threatened but it had nothing to do with the dead woman.
"It was the people who were staying with her."
One suggestion was that mob members were seeking the return of a large sum of missing money they claim was owed to them.
A family spokesman said none of Ms Matenga's immediate family were aware that she was being harassed or that she feared for her life.
"It's the first we've heard about it. And if we knew anything, the immediate family would have told us by now, but nothing has been said."
For now he had advised the family to focus on their grief and said they would speak out once they had buried their loved one.
Meanwhile, court documents show Ms Matenga was due to appear in the Hamilton District Court on Wednesday on three charges, including stealing a car.
Detective Senior Sergeant Nigel Keall of Waikato CIB said police were keeping an open mind on the death.
"This is a situation where it is important police remain objective and we are considering all possibilities without jumping to any conclusions in relation to anyone else's involvement in the deceased's death."
However, he said that police were "aware of various scenarios being discussed amongst local residents of Holland Rd" and he encouraged people with any information to come forward.
Emergency services were called at 3.45am to the Fairfield address, where fire had engulfed the three-bedroom state house.
Police credited the heroic actions of one of the nine occupants in rescuing two young children from the blaze.
"We know that one man managed to pull a 4-year-old child from a lounge window and then re-entered the house to successfully rescue the baby," Mr Keall said.
"Had it not been for this person's actions we would be investigating a far greater tragedy."
Four of the eight who escaped were taken to Waikato Hospital, including the 1-year-old and 4-year-old.
The older child, a boy, remains in intensive care in a stable condition.
He and his sister were the children of Ms Matenga's younger sister, who died three months ago.
Ms Matenga took them in. She had a teenage daughter and son of her own.
It's unclear who the other occupants were but it is believed Ms Matenga lived at the house with her partner, the four children and a 20-year-old male.
She had been studying hospitality management at the New Zealand Management Academy in Hamilton since October last year and was there the day before she died.
Academy chairman and chief executive Tim Cullinane said staff and students were deeply saddened by the news.
"She was a very popular student and well liked by the staff and her other students," Mr Cullinane said.
She was due to graduate in December.
Ms Matenga's former husband stayed outside the property on Wednesday night, his aunt said.
The woman, who did not want to be named, said her nephew and Ms Matenga were separated and the man lived in Auckland.
She said he was coping as well as could be expected and Ms Matenga's children were "trying to come to terms with it".