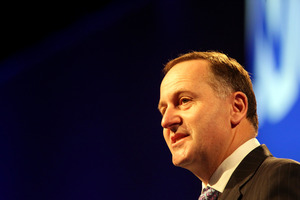 Prime Minister John Key's statement that euthanasia already happens in the country's hospitals has appalled the Australian and New Zealand Society of Palliative Care.
Speaking on Newstalk ZB yesterday about euthanasia, Mr Key said: "I think there's a lot of euthanasia that effectively happens in our hospitals."
But Sinead Donnelly, a palliative medicine specialist and chair of the Australian and New Zealand Society of Palliative Care Aotearoa (ANZSPM) has hit out, and said Mr Key seriously misrepresented the care by doctors and nurses in hospitals.
"Palliative care doctors and nurses throughout New Zealand strive ceaselessly, on a daily basis, to relieve the suffering of people facing imminent death. We never practise euthanasia; euthanasia is the deliberate ending of life, and is illegal and unethical."
The practice of euthanasia and assisted suicide was outside the discipline of palliative medicine, and Dr Donnelly said the national focus should be on achieving and maintaining the excellence of palliative care, not on euthanasia.
ANZSPM said it recommended that any request for euthanasia be acknowledged with respect and be extensively explored to understand and, if possible, remedy the difficulties that gave rise to the request.
"Particular attention should be given to gaining good symptom control, utilising the skills of a multidisciplinary team," Dr Donnelly said.
Patients had the right to refuse life-sustaining treatment, but that did not constitute euthanasia, he said.
Mr Key yesterday also said he broadly supported the principle of voluntary euthanasia and would consider it if he were terminally ill.
"I'd just look at it and say - if I had terminal cancer, I had a few weeks to live and I was in tremendous amount of pain, if they just effectively wanted to turn off the switch, and could legalise that by legalising euthanasia, I'd want that.''
Mr Key said he understood the argument that legalising euthanasia could put pressure on the elderly to end their lives early but he did not buy into it.
"I think there's a lot of euthanasia that effectively happens in our hospitals."
Director of the Association of Salaried Medical Specialists, Ian Powell, said he did not think euthanasia was occurring the way Mr Key had made out.
"The situation is much more complex than that," he told media.
"Sometimes continuing a treatment can prolong the agony for a patient, and not even keep the patient alive.
"By not prolonging the agony . . . even though the intent is not for the patient to die, it is sometimes a consequence."
Labour Party MP Maryan Street's End of Life Choice Bill, which would legalise euthanasia, has yet to be drawn from the ballot.
Mr Key said he had not read the bill so had not completely decided how he would vote if it was drawn.
He voted in favour of a similar bill from NZ First MP Peter Brown in 2003.
- APNZ