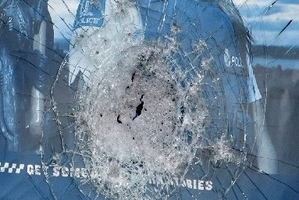 Stories making headlines across New Zealand at noon include trouble brewing in Otangarei, Facebook apparently having a lot to answer for and an oil company tells Stratford they should be more worried about lightning than fracking.
The Dunn family thought is was going to be just another day squatting in the house they grew up in at Otangarei when suddenly about 40 cops showed up including the armed offenders squad. Meanwhile "jokers" are apparently wandering around the neighbourhood with shotguns and firing them, with the Otangarei police station also being shot at.
John Paul College principal Patrick Walsh says "Facebook has a lot to answer for" after a violent episode which has resulted in him warning his students not to walk past Rotorua Boys' High School.
Meanwhile, boy racers have used Facebook to organise an event which promises to "clog streets" in Dunedin at the weekend. The owner of a Dunedin brothel will probably be following developments with interest.
Apparently it's not uncommon for mothers to sleep in their cars with their children because they aren't able to find emergency accommodation in Hamilton.
In Stratford, locals should apparently be more worried about being struck by lightning than fracking contaminating their water supply.
The Wanganui District Council has been slammed for "blatant hypocrisy" after it was revealed the city's worst sex offender is currently living in Christchurch on parole.
Meanwhile a man breaching his bail was found hiding under a blanket.
Literally operating on a prayer, the Mangere East Hawks Rugby League Club have called on a man of god to help them win a rugby league grand final.
Tania Wolfgramm looked like something out of a horror movie, her body all purple and covered in lesions.
Commuter Beverly Wilson is fed up with students taking all the seats on the bus she wants to catch.
Folks in Kawakawa are holding quiz nights in an effort to get Jonty Hooson to a national speech contest in Nelson.
If you've been speeding through the roadworks near Atiamuri then expect a ticket in the mail.
Male kiwi Tika isn't interested in sitting on eggs.
Over in Tauranga black swans are being herded by jetskis and boats toward a line of waiting hunters who then open fire in a carefully planned massacre.
Grace Road Neighbourhood Residents Association decided the pendulum had swung too far when the council announced it was proposing to slash the number of protected trees.
Meanwhile in Gisborne, the Maori Wardens are divided, funds are frozen, the president dismissed and they have turned their back on the national body and cancelled the national conference in October they were due to host.
Who is the unsung hero that rescued a 4 year old girl and her dad from being swept out to sea in Hawke's Bay.
Boxer Tipene Maniapoto has a dirty secret.
An axe is apparently hanging over jobs in Wanganui.
The mum of film producer Vincent Ward has died in Greytown.
A Masterton couple who admitted they had been swindled out of their life savings after investing in a Ghanian lottery have apparently been seeking more cash to pay overseas scammers.
An Irish contractor who blew triple the legal limit while heading for more booze in Christchurch will be deported this weekend.
For some reason trainee doctors are avoiding rural towns in favour of the big smoke. Meanwhile Ashburton's historic railway station is likely to be demolished.
An automated web content filter for the Dunedin City Council has deemed a Family First New Zealand website on traditional marriage a "hate" site and blocked access for staff.
Nine meandering underwater canyons have been discovered off the coast of Dunedin.
From November, the Dunstan Hotel in Clyde will no longer be allowed to discharge treated waste straight into the Clutha River.
A hut from Scott Base in Antarctica has been given a permanent home at the Oamaru Harbour.
Meanwhile, over on the West Coast, scooter drivers in Hokitika have been attending a free safety course.
Top trending topics on Twitter in NZ at noon include: Linkin Park, India, Auckland, Facebook, New Zealand and Twitter.