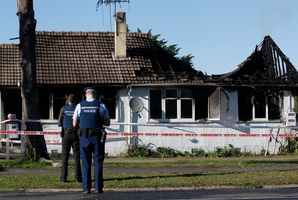 A rescuer who snatched a trapped baby and a four-year-old from a suspicious house fire in Hamilton prevented a "much greater tragedy", police say.
A homicide investigation is underway into the fire, which killed a woman and partially destroyed a state house at about 3.45am yesterday.
Eight people managed to escape the flames.
Two young children are still being treated at Waikato Hospital - one is in a serious condition.
Detective Senior Sergeant Nigel Keall said the toll from the fire could have been higher if it wasn't the bravery of a man who returned into the blazing house.
The man pulled a four-year-old child out of a lounge window before going back into the house and rescuing a one-year-old baby, Mr Keall said.
"Had it not been for this person's actions we would be investigating a far greater tragedy."
Mr Keall said the body of the woman who died in the fire remained at the house because hot spots were still being damped down.
About 30 police staff were working on the inquiry into her death.
He hoped the woman's body could be removed tomorrow so a post-mortem could be carried out in Auckland.
A 20-year-old man and a 15-year-old girl who were caught up in the fire were discharged from hospital yesterday. A woman, her partner and a 13-year-old boy also lived at the house.
Holland St residents were woken by the fire in Fairfield about 3.45am as flames engulfed the house.
Neighbour Rita Didovich said she was woken by her dog barking and as she went out to quieten him down she spotted flames coming from the house.
"Boy, were those flames high. It was well alight. The lounge windows, bedroom windows and the rooms at the end of the house where the flames were coming out of were high flames ... They were as high as the roof, easily."
Ms Didovich said she saw a woman sitting on the other side of the road rocking back and forward as the flames took over.
Another neighbour said she heard a man and woman yelling for help. She heard a "big bang" as the glass shattered. "It was loud, all the windows burst," she said.
Neighbours said they heard a car screeching off from the house after the fire took over.
Friends said the house belonged to a young Maori family, who moved into the property two years ago.
Hamilton Detective Senior Sergeant Karl Thornton said firefighters discovered the body inside the house once they had extinguished the fire.
"As a result an investigation into this unexplained sudden death is now under way," Mr Thornton said.