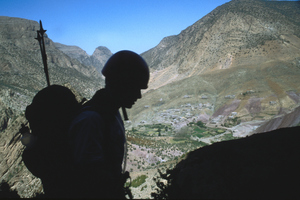 The convoy of soldiers involved in the Defence Force's greatest day of loss since the Vietnam War was providing an escort for one of them to go to the doctor with an eye complaint.
The 12 soldiers in Kiwi Team Four set off on Sunday morning from Do Abe base, along the road they have named after the Hurricanes rugby team towards Romero base 25km away.
Each of the four Humvees held three soldiers, which is a common way to travel whether on patrol or taking someone to the nearest doctor.
A short time later a bomb under the last vehicle in the convoy was detonated.
The blast of an estimated 20kg left a large crater and killed three soldiers instantly: Corporal Luke Tamatea, 31, Lance Corporal Jacinda Baker, 26, and Private Richard Harris, 21.
At 9.21am the convoy alerted their base - which was about 4.50pm on Sunday, NZ time.
Prime Minister John Key was alerted about 5.30pm with what he called a "gut-wrenching" call from the Chief of Defence Force, Lieutenant General Rhys Jones.
The surviving members of Team Four secured the area and waited for help.
At 10.10am New Zealand asked for a helicopter from the International Security Assistance Force to evacuate the dead.
A specialist UH60 medical evacuation helicopter was dispatched from Bagram airbase and about 1pm it refuelled at the main New Zealand base, Kiwibase in Bamiyan, before heading about 80km north on its mission.
It picked up the three bodies and arrived back at Kiwibase about 1.50pm.
General Jones said last night that the surviving members of Kiwi Team Four were being assisted by the team that had been dispatched to help the team cope with the deaths two weeks ago of Lance Corporals Pralli Durrer and Rory Malone.
He said that normally Team Four was based in Romero but they changed around.
"They do rotate around so they have unpredictable patrol routes, so the Taleban can't say 'oh they come by here at 2 o'clock in the afternoon'."
General Jones said the defence forces were constantly evolving the way they operated in response to the changing tactics of the insurgents.
He also revealed yesterday that he had dispatched a specialist IED team from New Zealand last week after the two deaths a fortnight ago.