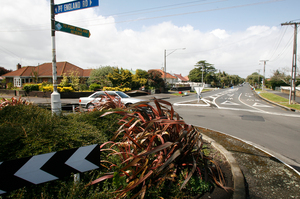 They feel like fairground obstacle courses to drive around, but "self-explaining" roads in East Auckland are cutting the number of crashes and inspiring international interest.
Traffic engineers, helped by Waikato University's psychology school, are hailing a 30 per cent reduction in crashes after a radical landscaping makeover of 10 roads which is turning part of Pt England into a leafy enclave.
The crashes that do happen are result in less serious injury than on non-landscaped roads, and the team reported in the international journal Accident Analysis and Prevention an 86 per cent reduction in annual accident costs under the $2.6 million project inherited by Auckland Transport.
Cars have slowed on average to just under a "design" speed of 30km/h in the six roads that have had most of the landscaping.
Those are local streets, in contrast to four "collector" roads running around them - Pt England Rd, Erima Ave, Tripoli Rd and Pilkington Rd - where there have been more modest speed reductions, to around 50km/h.
But the engineers say that reflects clearer distinctions between roads serving different functions, making it easier for pedestrians, cyclists and drivers to know where they stand.
One result has been a 30 per cent fall in motor traffic and 17 per cent more pedestrians on the six local streets, and a slight increase in traffic on the collector roads.
Only minor modifications have been made to the collector roads - mainly by adding well-defined cycle lanes and median zones - but the streets have been transformed by islands of vegetation decorated with artwork from children at Pt England Primary School and trees planted in what was once the path of traffic.
Formal signs have disappeared, leaving drivers to zig-zag gingerly around the many obstacles, usually at low speeds left unprescribed in the "self-explaining" environment.
In an hour-long informal test drive, the Herald found that three large roundabouts gave little room to squeeze past without reducing speeds to between 10km/h and 15km/h, although Auckland Transport says they are low enough for wheels to mount without damage if done slowly.
Although the trial began three years ago, accident statistics for an international audience have only recently become available.
The engineers hope these will satisfy reservations of a minority of surveyed residents, while acknowledging some will take more convincing.
"The overwhelming majority response has been fantastic," said Auckland Transport road safety manager Karen Hay. "But there are some people who incredibly passionately think we're insane."
Consultant engineer Hamish Mackie said the annual number of crashes fell to 13 in the first two years since the "intervention" against an average of 18 in the five preceding years.
None of the post-makeover crashes caused serious injuries, compared with four in the earlier period, and no pedestrians were reported hurt.
The police eastern crime prevention co-ordinator, Senior Sergeant Graeme Porter is pleased with the statistics, but is sceptical about planting trees in the middle of roadways - particularly along the traditional "rat-run" of Maybury St - and wants some replaced by traditional speed humps.
He says many trees have been bowled over, including several by a stolen 4WD chased by police, and wonders at the wisdom of "pushing cars into the wrong side of the road" when they have to weave between islands of vegetation and parked vehicles.
The Herald counted 51 trees planted in the middle of streets, some up to 3m high, and seven empty pits where others had been knocked over.
Lifelong resident Kerry McFarlane believed two cabbage trees reduced to stumps in the middle of Tripoli Rd were hit the night before, although he supported the trial and said Auckland Transport was always quick to replace such casualties.
"It is slowing traffic down - people are being more civil and starting to grow up - it's good for pedestrians."
But Anderson Ave resident Eddie Satele said the trial was "terrible for drivers" and he feared for children lulled into a false sense of security while crossing roads partly obscured by trees.
Ms Hay said achieving the design speed of 30km/h justified the exercise, as that dramatically reduced injury risks. But Auckland Transport accepted there was room for improvement and had ideas for meeting concerns while considering other Auckland localities for future trials.