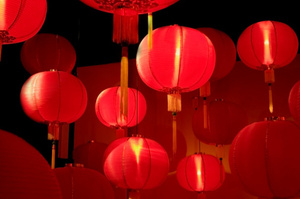 Speculation continues to surround bright lights that keep appearing in Hawke's Bay skies.
The latest sighting occurred at the weekend, when bright orange lights were seen by Michael and Sheila Wick from their home in Havelock North. They said the lights slowly travelled north for about 20 minutes before fading away.
Mr Wick spotted them from his kitchen window, and grabbed a camera to recording some footage.
Such lights are often attributed to Chinese lanterns, which are known to cause confusion with Coastguard emergency flares.
Before Saturday's sighting, red lights were spotted by a Tamatea resident on Tuesday August 7, moving in the direction of Bluff Hill.
Mr Wick said he spotted six or seven separate lights about 9.30pm on Saturday night, before they started disappearing. "It was like looking at orange stars, I can't describe them any better than that," he said.
"They were too high to be lanterns and they moved from south to north and gradually disappeared over about 20 minutes." Three lights captured on film appear to be very high up in the sky, and moving slowly in a triangle formation.
Mrs Wick said, "I just can't believe how deep the orange was. It was amazing."
Hawke's Bay Chinese Association president Brian Young yesterday said his organisation wasn't responsible for any Chinese lanterns recently, after being warned they could be mistaken for emergency flares. It could have been someone recently moved to the region, he suggested.
The Coastguard had not shot any flares on Saturday night, and police said they were not aware of the lights' presence.
For more articles from this region, go to Hawkes Bay Today