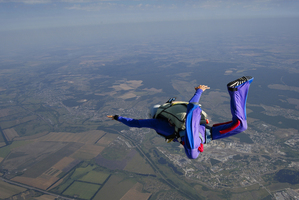 Skydiver Liam Dunne has spoken about the panicked fall he said could have killed him.
The Taupo father-of-two said soft, wet ground saved him from death when a gear problem during a routine jump meant his emergency parachute opened just 225m above the ground.
"If the ground hadn't been so soft every bone would have been shattered - I would have been dead," Liam said from his bed at Christchurch Hospital yesterday.
"I made some pretty big dents in the ground."
Dunne said he felt extremely lucky, despite his broken vertebra, which has been stabilised with rods and pins.
"It is just nice to be here talking, to be here at all. We are waiting for the bruising and swelling to go down to see what we are dealing with," he said.
"I am just resting up for now, staying in bed and trying to stay as still as possible."
The experienced skydiver had just finished filming a four-way group jump at The Good Vibes festival in Motueka on Thursday when things went wrong.
Dunne tried to detach the wings from his camera suit but accidentally disengaged one brake, sending his parachute into a spin. He frantically tried to release the other brake to stabilise the spin but couldn't.
"The ground was rushing up to me and I was waiting for the reserve to open. It got to the stage where I thought 'it's too late - I'm a goner'.
"I hit the ground and I bounced. I think my feet hit first and then my bum and then I was in a big old heap.
"I had a few broken ribs so I was finding it hard to breathe and my left leg was numb so I thought I had destroyed that."
A friend landed beside Dunne and kept him alert until emergency services arrived.
Dunne's wife Sally, who was in a plane on her way to the festival, got a text message telling her of the accident.
"It was pretty scary but all I wanted to know was that he was okay," Sally said. "We are so grateful to all of the people who have been involved in caring for him."
Dunne, who owns Skydiving clothing company Deepseed, will move to the Burwood Spinal Unit next week, and is itching to get back to his sport.
Dunne was good friends with Waikato skydiver and base jumper Alan McCandlish who died in Europe two months ago.
"Our community has had a bad run recently but I still think it is a beautiful sport and I know this is a one in a million accident."
However, he planned on getting a Lotto ticket to further test his luck.
"If I win, I will give some of the money to the Burwood Spinal Unit - I hear they do a lot of good work."