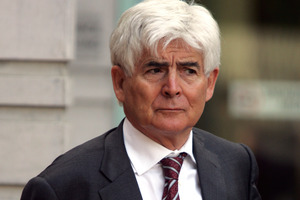 A new Ferrari, an Aston Martin and a Harley-Davidson are among prized possessions seized from Auckland lawyer Barry Hart after he failed to settle a $1.5 million debt.
The confiscation is the latest blow for Mr Hart, who was found guilty at a disciplinary tribunal of "grossly" overcharging clients, lost real estate valued at $26 million in a mortgagee sale and had a company put into liquidation over an unpaid tax bill.
The veteran criminal barrister owed his bank $30 million and was being charged $200,000 a month in interest.
Now debt collectors have seized luxury cars, excavators, tractors and computer printers to settle a $1.5 million debt with GE Finance.
Among the repossessions were a 2011 Ferrari California that had travelled only about 100km - worth about $400,000 - an Aston Martin DB7 and a Harley-Davidson motorcycle.
Two classic cars, a 1969 MG and a 1958 Wolseley, were also taken, as were two Toyota Hilux utes.
Tractors, excavators and mulchers were seized from Mr Hart's 952ha property in Waimauku, one of the largest privately owned land holdings in Auckland, which was sold by the ANZ National Bank in a mortgagee sale last month.
Mr Hart, 71, has acted for high-profile criminals such as samurai sword killer Antonie Dixon.
The vehicles were repossessed around the time the barrister was found guilty of three charges of professional misconduct by the Lawyers and Conveyancers Disciplinary Tribunal.
Mr Hart charged a client's family $1000 an hour despite much of the preparation work being done by a junior lawyer who had been practising for only two months.
On one occasion, the fees were charged for "waiting time in court" and totalled $35,000.
During a two-day hearing last month, the tribunal heard from a Queen's Counsel with more than 35 years' experience in criminal law.
The lawyer said that even at Mr Hart's "very high" hourly rate of $1000, his work on a case for one family could have been done for between $15,000 and $16,000.
The tribunal, chaired by Judge Dale Clarkson, found Mr Hart's fee was between 95 per cent and 107 per cent above a "reasonable fee".
"We consider this to be gross overcharging," its report said.
The professional misconduct findings came after Mr Hart failed in a 12-month battle to save his Waimauku holdings, west of Auckland.
Justice Murray Gilbert said Mr Hart had defaulted on his obligations to the ANZ National Bank bank and owed it more than $30 million.
"Interest is accruing on these debts at a rate exceeding $200,000 a month."
The loans were secured by mortgages over the properties, which had a capital value of $26 million, so Justice Gilbert said a shortfall was expected once they were sold.
In June, the Inland Revenue Department successfully applied to have B J Hart Ltd, of which Mr Hart is sole director and shareholder, placed into liquidation over an unpaid tax bill.
- Additional reporting: Edward Gay (APNZ)