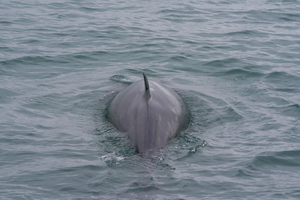 A whale stranded on a Northland beach yesterday has been euthanised and buried.
The 8m-long Minke male became stranded on Patea Beach, near Whatuwhiwhi, yesterday morning.
A team of volunteers kept the whale wet throughout the day and with the help of two boats it was refloated at high tide last night.
It swam back into shallow waters shortly afterwards, Department of Conservation spokeswoman Carolyn Smith said.
Together with local iwi the decision was made to euthanise the distressed whale around midnight to prevent it from suffering further, she said.
"It was really distressed and when it came back into shore there was blood coming out of its mouth."
Minke whales were "quite fragile" and did not cope well with long periods on land, said Ms Smith.
A karakia (prayer) was said before the whale died and it was later buried near the beach.
Whales used sonar for direction but sometimes became confused when nearing shallow beaches with few features for the sonar to bounce off and headed towards shore by mistake, Ms Smith said.
- APNZ