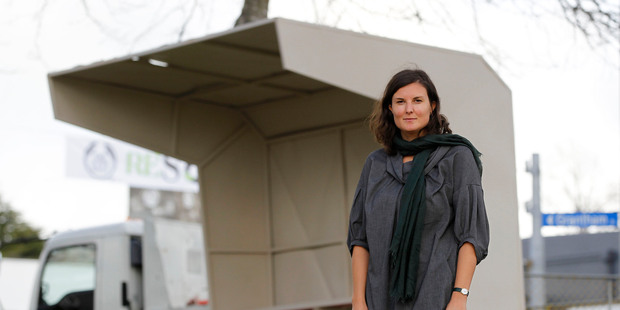 Judge Caterina Riva with the winning entry, a recreation by Michael Parr and Blaine Western of a 1950s Hamilton bus shelter. Photo / Christine Cornege
Cigarette butts, chewing gum and rain-soaked rubbish litter the winning entry in the 2012 National Contemporary Art Award - a bus shelter.
The $15,000 prize for the annual award was presented to Auckland artists Michael Parr and Blaine Western last night for a cantilevered bus shelter, entitled Parallel of Life and Art.
Built in situ outside the Waikato Museum, which is hosting the award, the recreation of a 1950s bus shelter has already become part of Hamilton's landscape, with unsuspecting passersby using it as a lunch seat.
However, the entry, which backs on to the city's main street, has not yet attracted bus users.
It was one of the nine finalists, including a snapshot of artist Roman Mitch's studio complete with used takeaway coffee cups and other bits of rubbish strewn on the floor - yours for $42,000.
Studio Shot was one of three entries to gain merit, along with Robot Coupe/C/Options by Oscar Enberg of Auckland, who installed his RoboCop movie and French-inspired coffee mugs and tiles in the museum staff room.
The third, Untitled (After Rakaihautu) by Shannon Te Ao and Iain Frengley of Nelson, is a $3500 short video depicting ancestral chief Rakaihautu's naming of the land through a man using a wooden stick to wade in the shallows of a beach.
Judge Caterina Riva said the winning piece came first because the artists challenged the usual way art was made and presented.
"They carried out a quite in-depth social and historical research into the architecture of that particular bus shelter, and they decided to recreate it themselves but making it devoid of function because there's not a real bus stopping there."
Ms Riva, the director of Artspace Auckland, said she liked the fact the work, which took several days to construct, faced the museum and not the road.
"I guess the artists' intention is to generate a conversation, a conversation that goes beyond the confines of a museum or gallery that protects the work. I hope people pick up on that."
The award for contemporary art, which has been running for 11 years, drew 230 entries.
In 2009, the winning entry attracted condemnation after Berlin-based artist Dane Mitchell arranged for museum staff to use packing from other entries to create a pile of rubbish on the floor.
Previous entries have included a money tree which grew poorer as the exhibition went on and a welcome mat made of glitter which people walked through.
Waikato Museum director Cherie Meecham said the national award never failed to generate comment.
"First it challenges our artists, who respond accordingly, and then it gets people talking about art. The result is a unique exhibition, formed by the judge's decision which we have the pleasure of sharing."
Ms Meecham applauded the 2012 sponsor, Barry Hopkins, an art collector, for his generosity and "vision in keeping fine arts alive".
The award exhibition opens to the public today and runs to November 18.
For details visit www.waikatomuseum.co.nz