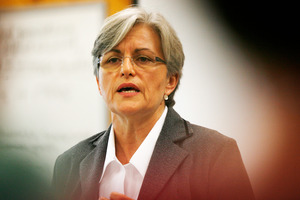 An increase in elective surgery is coming at the cost of primary health care, Labour's Health spokeswoman Maryan Street says.
Today, Health Minister Tony Ryall announced more patients were receiving elective surgery faster, with an extra 7500 being operated on in the last 12 months, bringing the total number of operations to 153,000.
"More patients are getting hip and knee replacements, cataract surgery, and tonsillectomies sooner - more prompt treatment improves recovery and gets patients back to normal life sooner," Mr Ryall said.
"We've also managed to greatly reduce the number of patients waiting for elective surgery or for a specialist assessment to see if they need surgery, with a particular focus on those waiting over six months."
The number of patients waiting longer than six months for operations had also been reduced by 85 per cent from 5700 to 840.
Mr Ryall said the goal was to have no patients waiting over six months, and the maximum waiting time down to five months by the end of June next year.
However, Ms Street said while the extra operations were a great result from the country's hospitals, elective surgery was only one aspect of the health system.
"The trouble is, elective surgery is not all New Zealanders want from their health system.
"Money put into primary health care and prevention would stop people from getting ill and having to be admitted in the first place. More hip and knee operations are fine, but they are now coming at the cost of primary health care which is seeing community based prevention and health education programmes cut left, right and centre."
Ms Street said people suffering from chronic illnesses were working hard to manage their condition everyday.
"The minister has funded more operations and then trumpets the predictable results. Let's see him put as much energy and as many resources into preventing people from getting sick in the first place."
- APNZ