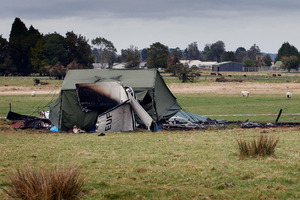 The type of top dressing plane modified into a skydiving passenger plane that crashed at Fox Glacier nearly two years ago, killing all nine on board, was notorious for engine failure or technical defects, a former Civil Aviation safety investigator has told an inquest.
Mark Houston said that since the Fletcher FU turbo-prop aircraft came into service in New Zealand there had been 17 engine failures and at least 20 control failures or engine mount defects, any of which could have caused the pilot of the Skydive NZ plane to lose control in the 2010 crash.
Mr Houston told the inquest in Greymouth today that a Transport Accident Investigation Commission (TAIC) conclusion that excess weight and a load shift had caused the fatal flight was flawed, saying the possibility of engine failure had been dismissed too quickly.
He said the opinion of some witnesses that the pilot briefly regained control of the plane was also incorrect because tests that he had since conducted in an identical aircraft had proved otherwise.
Meanwhile, Donald McGill, the designer who oversaw the conversion of the plane from a top dresser to a passenger carrier, said tests that he and another qualified test pilot carried out last week on an identical aircraft had proved to him that the opinion of the TAIC, and that of independent aviation expert Barry Payne, that the two fundamental causes for the crash were an incorrectly set tail flap rudder, and the plane being out of balance due to excess weight and load shift, were also flawed.
The tests, commissioned and overseen by Civil Aviation, were conducted with the same laden weight as the stricken Fox Glacier plane, but Mr McGill accepted that the weights had been strapped in and could not move during his test.
When asked by the mother of one of the victims why the tests were not conducted with a "moveable" load, Mr McGill said that would have been "too hazardous".
He also accepted that the flight manual should have been changed after the plane conversion because the weight and balance checks were still those of a crop duster and not a passenger plane, but he said that was not his responsibility. He had submitted the flight manual to Civil Aviation, which had authorised it.
Foreign tourists Patrick Byrne, 26, from Ireland, Glenn Bourke, 18, from Australia, Annita Kirsten, 23, from Germany, and Brad Coker, 24, from England, together with four skydive masters Adam Bennett, 47, Michael Suter, 32, Christopher McDonald, 62, and Rod Miller, 55, and their pilot Chaminda Senadhira died in the September 4, 2010 crash.
- APNZ