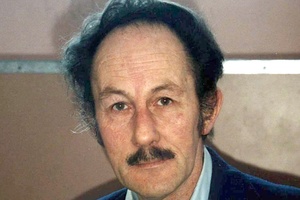 Stewart Murray Wilson's lawyer says public leaders are causing the serial sex offender to fear for his safety, by weighing in on the debate about releasing him in Wanganui.
The man dubbed the "Beast of Blenheim" has been the target of public outrage and threats since the Department of Corrections announced he would be re-housed on Wanganui Prison grounds, but outside the security fence, from September 1.
"If he gets out of jail, looks for Lorraine (a woman who had been in a relationship with Wilson) and hurts her I swear to you, I will kill him," Darlene Dalton, who once confronted Wilson after he attacked a woman, said on TVNZ's Sunday show.
Wilson's lawyer Andrew McKenzie told TVNZ's Breakfast today his client feared for his safety.
"I think it would be difficult not to fear for your safety when you're hearing some of the things that have been said, and some of the so-called public leaders and public officials in some ways drumming those sorts of feelings up.
"That's obviously a concern to him, [Wilson] as well as to the police who will have the ultimate responsibility to keep him safe."
Mr McKenzie said he had received several emails asking "what the hell" he was doing representing Wilson, but had not been threatened.
Among those to have spoken out against Wilson being released in Wanganui are the town's mayor Annette Main, former mayor Michael Laws and Maori Party co-leader Tariana Turia, who lives on the street he is due to be housed on.
Wilson will be subject to 17 parole conditions that strictly curtail where he can go and who he can associate with - conditions the Corrections Department say are the most stringent ever imposed.
Mr McKenzie said Wilson did not want to go to Wanganui, and was seeking to make an alternative arrangement.
"I think that in some ways could be seen as a bit of a recipe for disaster; forcing someone kicking and screaming to a community that doesn't want him."
Mr McKenzie would not say where Wilson would prefer to live.
"Wilson has rights; he has a right to be released and obviously there are a lot of things in place to ensure there is no reoffending.
"We also need to remember, of course, that most of his offending took place 20, 30 years ago. Now he's over 65 and circumstances are quite different."
- APNZ