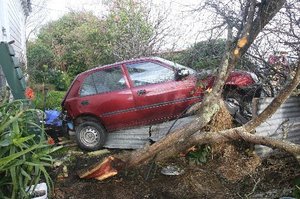 Stories making headlines across New Zealand at noon include teenagers discovering a new way to offend people on Facebook, a 94-year-old woman who reversed into a neighbour's tree and in Oamaru a bloke called James would also have been overwhelmed by Valerie Adams being awarded a gold medal.
The latest after school fun for kids is jumping on Facebook and posting memes or internet-generated pictures with tongue-in-cheek captions, but many apparently target teachers and are offensive.
Setting off for a hair appointment, 94-year-old Margaret Hooper crashed through a neighbour's fence and ended up in a tree and had to be rescued with a chainsaw.
Meanwhile, James from Oamaru would have been leaping up and down with joy as much as anyone on the news Valerie Adams had been awarded a gold medal.
Six-month-old son George was showered with glass when a car smashed into the vehicle he was travelling in only centimetres from where he was belted into his car seat. This three-year-old child didn't appear to have a proper car seat.
A jury has heard Jack Davis was kidnapped and "hog tied" before being driven into remote bush where he was murdered with a thistle grubber.
Using only wind and traditional navigation techniques, Northland seafarers hope to sail a pair of double-hulled voyaging canoes to Easter Island.
The Government is intervening in struggling Northland schools at a rate three times higher than the rest of New Zealand.
It is still not clear how Corporal Douglas Hughes died in Afghanistan six months ago.
A dairy farmer had to be rescued after getting lost while trying to get back stock.
Anika Moa, Boh Runga and Hollie Smith have morphed into AnikaBoh&Hollie.
Zac Taylor from Whakatane used this tape to audition for The Edge Boyband.
Channing Tweeddale is 15-years-old and pumped.
These people are working in dangerous conditions similar to the "inside of a washing machine".
A Mount Maunganui man is counting his blessings.
When Police arrested Samuel Christison, he started bragging about the cannabis sales he had made.
Text messages are being used to help tackle Hawke's Bay's high Sudden Unexplained Deaths in Infants (Sudi) statistics. However texting is an "inappropriate" way for midwives to complete clinical assessments.
While looking after an elderly widow, Kay Frances Coull, used the woman's bank card and PIN to withdraw $35,000 to feed her gambling habit.
The World War II de Havilland Mosquito, the most mysterious of planes, is about to fly again.
Meanwhile in Gisborne locals have stepped up to help a Tongan family who lost everything in a house fire.
The fury of the Wanganui public was apparently unleashed on the Department of Corrections and police last night.
When Aaron James Broad answered the door, he was greeted by armed police in silver chemical suits.
Teenagers using Liffey Reserve in Lincoln as a late night party spot are attempting to win the hearts and minds of locals after getting what they say is a bad wrap.
Vintage ploughmen from Temuka to Rangiora will converge on a farmer's bare paddock in Lakeside on Saturday.
Over the past year house values have risen by 13 per cent in Selwyn and 13.9 per cent in Waimakariri.
In Dunedin, Steve Anderson is disappointed his DNA is no longer going to be mapped.
A long list of roads remain closed as Otago mops up.
"Three idiots" were recorded driving at more than twice the 70kmh speed limit in a residential part of Waikouaiti within the space of a week.
Over at the Oamaru Blue Penguin Colony they are not happy campers.
Top trending topics on Twitter in NZ at Noon include: #JustGettingStarted, #belned, #AskHowieD, Belgen, Assange, Van Persie, Samsom, Kamp, RVP and Brussel.