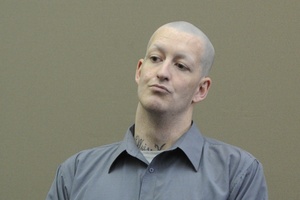 A 26-year-old Dunedin man has been sentenced to life imprisonment and must serve a minimum of 12 1/2 years for beating a man to death at Warrington last year.
The murderous attack by Peter Richard Holmes on 23-year-old Jamie Ellis was pre-meditated, unprovoked, sudden and brutal and 23 of the victim's 62 external wounds were defensive, Justice Ronald Young said today.
Holmes had pleaded guilty to murdering Mr Ellis on April 15 last year.
Two other people were initially also charged with the murder but pleaded guilty to lesser charges - 18 year old Mark Carruthers to manslaughter, his father, 48-year-old Dean Carruthers to being an accessory after the fact of assault and wounding with intent to cause grievous bodily harm.
Mark Carruthers was sentenced to two years' jail, his father to seven months' home detention.
Holmes was sentenced today in the High Court at Dunedin.
Justice Young said Holmes had taken the law into his own hands believing the victim had done something wrong when there was no evidence he had.
He had enticed Mr Ellis into leaving a party in Oamaru and going for a ride in a car with him and the other two men. Mr Ellis believed it was for a drinking session, when Holmes knew there was going to be a physical confrontation at some point, the judge said.
After driving to Warrington, Holmes, Mark Carruthers and the victim got out of the cars.
Without any warning or provocation Holmes and Mark Carruthers attacked Mr Ellis who was punched and kicked and had beer bottles smashed over his head.
Mark Carruthers then withdrew from the attack but Holmes continued, using weapons including a wheel brace and ultimately causing the victim's death.
The body of Mr Ellis was dragged into the bay where it was found later the same morning. As he lay dead on the sand, his wallet and some cash were taken from his trousers.
Holmes later burned his clothes but described in graphic detail to his flatmates how he had killed the victim.
Mr Ellis had 62 external wounds and injuries and it was clear that, after the first few blows, he would have been incapable of fighting back, but Holmes had persisted with his violent attack, Justice Young said.
The victim impact statements made it clear the life of Mr Ellis' family had changed forever. There was an emptiness from his loss which would never be filled.
The brutality of the unprovoked attack showed the dangerousness of Holmes, the judge said. A non-parole sentence of 14 years would be appropriate, but that was reduced by 18 months for Holmes' guilty plea.
On the charge of murdering Mr Ellis, Justice Young sentenced Holmes to mandatory life imprisonment, with a minimum non-parole period of 12 1/2 years.