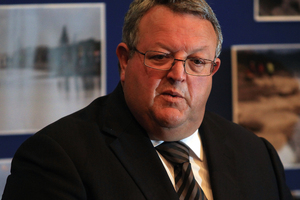 The Government is to remove limits on the New Zealand Transport Agency's ability to borrow in a move Opposition parties say is intended to ease a funding squeeze that threatens to delay the $9 billion roads of national significance programme.
But Finance Minister Bill English yesterday downplayed the prospect of substantial new borrowing.
The Transport Agency - which is funded via road user charges, fuel taxes, vehicle registration and license fees - is currently permitted to borrow money to "manage its cashflow" or cover short-term funding shortages. Transport Minister Gerry Brownlee yesterday said that ability is capped at $250 million.
However, he this week introduced an amendment to the Land Transport Management Act that would remove the limit and allow the agency to borrow "to fund future land transport projects, subject to the agreement of the Minister of Transport and the Minister of Finance".
The ability to borrow more is consistent with the agency's proposal to increase its ability "to support economic growth" set out in its briefing to the incoming Transport Minister Mr Brownlee last year.
To achieve that it proposed allowing greater balance sheet flexibility for the the National Land Transport Fund or the agency itself "through access to additional finance".
A current priority for the agency is the $9 billion roads of national significance programme which the Government sees as a key plank in its economic development programme.
But early this year the Transport Agency warned Mr Brownlee that funding constraints could delay completion of the programme by three years to 2024.
Green Party transport spokeswoman Julie Anne Genter said the Government was "facing a growing funding gap between stagnant road tax revenue due to declining road use and the rising costs of its uneconomic motorway programme".
Ms Genter said additional borrowing by the Transport Agency and "back door borrowing" in the form of public private partnerships meant the Government was putting the cost of the new roads "on the nation's credit card".
But Mr English said the effect of any additional borrowing under the new legislation on overall Crown debt was "yet to be determined".
"If there is any it will be fairly minor," he said. "It's really as I understand it giving NZTA the capacity to manage fluctuations in the roading programme and their public transport funding programme.
"If they were going into any extensive borrowing there would have to be a pretty deep consideration of all the incentives and costs that go with that and no one's really contemplating extensive borrowing."
In response to questions from Labour's transport spokesman Phil Twyford, Mr Brownlee said he could give no information about the level of borrowing by the Transport Agency over the next three years.