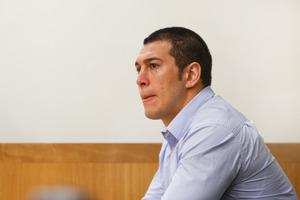 Was a young rugby star charged at by a trouble-making "madman" or did he thump a man so hard he lost his teeth?
That is what the jury will be asked to decide today after hearing evidence for and against All Black and Blues player Rene Ranger, on trial for assault in Whangarei.
It has also emerged that Ranger, 25, hired a private investigator to gather defence witnesses - and those people were told not to speak to or give statements to the police.
Ranger, 25, denies punching Jason Dick unconscious and then stomping on his head at the Mangawhai Tavern in August 2009.
He has never made a statement to police and did not take the stand during the three days of evidence. But this week the long-awaited details of the allegations were revealed.
Ranger's lawyer Arthur Fairley says the rugby player fended off Mr Dick face first into the concrete outside the pub, trying to protect himself from an "out of the blue" dive tackle.
The Crown says that afterwards, Ranger followed Mr Dick, punched him in the face with such force that it knocked both him and his brother to the ground, then stomped on his head.
Judge Duncan Harvey will sum up for the jury today and then send them off to reach a verdict.
Yesterday he heard from the men who were beside Ranger when the incident happened, including Northland prop Ross Wright.
He also heard closing addresses from both sides.
Mr Fairley said Ranger was "tackled by a madman".
"The defence case is that there was no punch. There was no stomping and/ or kicking. Everything that happened was instigated by Mr Dick.
"All Rene did was to react to that. And he was reacting in self-defence."
He said Mr Dick simply saw Ranger as a "tall poppy I can have a go at".
Prosecutor Grant Anscon said that while the defence had witnesses in numbers, they were unreliable, biased and not objective. He also implied that the men who were with Ranger on the night in question had "pitched" their versions of events together in a bid to create a full, inaccurate picture.
He conceded Mr Dick's memory of the alleged assault was virtually nonexistent, but that the careful and responsible evidence from others who witnessed it showed a vicious attack by Ranger on a much smaller man.
"If you look at the combination of evidence ... it's clear," Mr Anscon said.
"It was a punch strong enough to take out both men. The defence is talking about self-defence ... but that doesn't get out of the starting blocks. I'm seeking a verdict of guilty in this case."
CLAIMS AND COUNTER-CLAIMS
The lead up
* Rene Ranger and a group go to Mangawhai Tavern for drinks.
* The tavern closes and Ranger stands outside talking to friends.
* There is an altercation with Jason Dick, who ends up unconscious.
* Ranger leaves, going back to a house for more drinks.
* Ranger later charged with assaulting Dick.
PROSECUTION
Jason Dick goes to tackle Ranger, who fends him off on to the ground. Minutes later he walks up to Mr Dick, the pair have words and Ranger punches him once in the face, "felling" him. He then stomps on Mr Dick's head.
DEFENCE
Ranger is talking to friends when Mr Dick "charges" at him and tries to dive tackle him. In self-defence, he fends off the man, who lands face first on concrete. Teammate Ross Wright picks Mr Dick up and "throws" him away from the group, ending the matter.