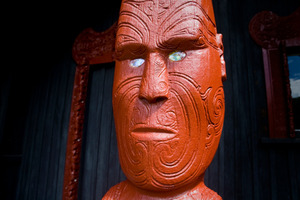 The Government's flagship welfare policy for Maori, Whanau Ora - worth $40 million this year - is designed to lift families out of poverty and dysfunction, but it has been criticised as a waste of money and an opportunity for some to rort the system. In a four-part investigation reporter Yvonne Tahana speaks to those at Whanau Ora's frontline.
A Mangere mother of three whose daughter was allegedly sexually abused says she was at breaking point before Whanau Ora workers helped to steer her family through a tough time - which included living in a single room with her children.
The Herald cannot name the 30-year-old because of a pending court case in relation to the abuse allegations against an ex-partner.
The family, which includes two other young children, had been on Housing New Zealand's waiting list for a number of years and were forced to move out of their rental property because it was being sold.
The mother, who has a part-time office job and is studying for a social work degree, had to rely on friends in a home where cardboard covered broken windows. Three adults and six kids lived in the three-bedroom house.
"It was pretty much falling apart. Me and my kids were sharing a room. I'm running around and I just fell apart. My daughter's going completely off the rails because she had no space, she wasn't communicating with me, she was fighting," she said.
Whanau Ora workers from an Auckland organisation worked hard for the family.
"My Whanau Ora worker came in and really supported me through the courts, organising parenting orders. Three weeks after [the worker] got involved I had a brand-new home, four-bedroom house. She was emailing Housing New Zealand, pushing them, she was at it all the time, pushing left, right and centre. On my own, I couldn't get it done."
WHAT IS WHANAU ORA?
Whanau Ora (Well Families) is a Government welfare policy initiated by the Maori Party. It is open for everyone but its focus is on Maori families.
HOW IT WORKS
Social agencies work with whanau to help identify and improve problem issues such as poor housing, health, education and legal problems. They also ask the family to plan a future which moves them from state dependency to become financially independent and healthy participants in their community.
It is funded in two parts:
* $33.2m this year for agencies to form consortiums to work together with whanau to improve all elements of their wellbeing.
* $6.4m this year directly for whanau to form their own plans to improve their wellbeing.
THE SERIES
We have travelled to four of the areas where the services are most in demand.
Monday: Tai Tokerau (Northland)
* Urgent review follows abuse of scheme
* Disabled uncle has new hope after 14 years on benefit
Doors open to decent housing and a better lifestyle
* More cash the key to better lives, says CEO
Today: Waikato-Tainui
* Dream of life in Oz unites family
* Children put first with help of family plan
* Engagement and support replace expulsion at school
* Tainui seeks investors to help build $20m centre
Today: Te Arawa (Rotorua)
Thursday: Tamaki Makaurau (Auckland)
NEED MORE INFO?
Email: Whanau Ora
Visit: Te Puni Kokiri