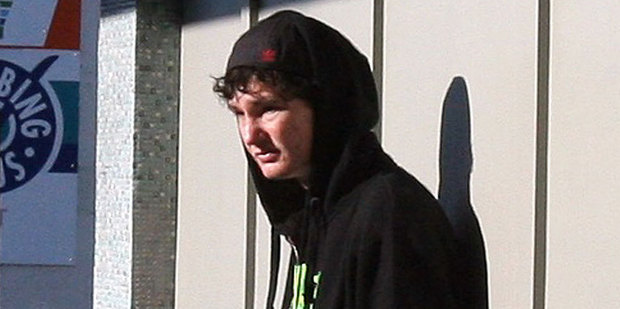 A young Masterton driver who rammed two patrol cars while fleeing police was trying to avoid being breath-tested, a court has been told.
Dylan John Terry, 17, pleaded guilty in the Masterton District Court yesterday to failing to stop for police, reckless driving, two charges of aggravated assault - relating to ramming the police cars - and a separate burglary.
Prosecutor Sergeant Garry Wilson said that before the June 16 incident, Terry had been at a Raglan St party and drank at least 12 bourbon and colas - an 8 per cent alcohol drink.
He left the party and was seen driving south at the intersection of Russell St and Queen St in Masterton. A female passenger was also in the vehicle.
"Police decided to stop him for a random breath test but he failed to stop for the lights and sirens," Mr Wilson said.
Terry then drove north on Queen St at roughly 80km/h in the 50km/h zone, driving straight through the Renall St intersection without slowing and becoming "airborne" over the speed humps.
He drove through the Bannister St and Church St intersections, making no attempt to slow, and on to grass at the Opaki roundabout, where he briefly lost control of his car and spun out.
Mr Wilson said Terry then drove north in the wrong lane, narrowly missing an oncoming car. He moved back into the correct lane and drove at speed along Opaki Rd while the passenger screamed at him to let her out.
At the Third St intersection he stopped, allowing a patrol car to pull up behind him, but when a constable got out and walked to Terry's vehicle he reversed back, ramming the front of the police car.
Terry then fled from a second pursuing patrol, made a U-turn and drove straight towards the police vehicle. The constable driving the patrol car "took evasive action" to avoid a head-on collision and Terry's car rammed into the rear, damaging the police vehicle so badly it could not be driven.
Terry drove to Third St, then abandoned the car in Hinau Place. Soon after, he was seen walking along Roberts Rd but when spoken to denied he had been driving the car involved.
Mr Wilson said that, the next day, Terry handed himself in, admitting he was the driver. His explanation for not stopping was he didn't want to lose his licence for drink-driving.
The burglary charge arose from an incident in June when a shed at the Taratahi Agricultural Training Farm was broken into.
A Rhino all-terrain vehicle worth $17,000 was driven through roller doors and taken away. Two chainsaws worth $4000, two post-hole borers worth more than $2500, a battery drill pack, hand tools and 400 litres of diesel fuel were also taken.
Police took samples of blood found in the shed and these were later found to match Terry's blood.
Reparation for the property taken is being sought and amounts to $29,870.
Judge Carrie Wainwright warned Terry there would be "serious consequences" and advised him to go voluntarily to a counselling service, particularly for alcohol abuse, before he was sentenced on September 27.
For more articles from this region, go to Wairarapa Times-Age