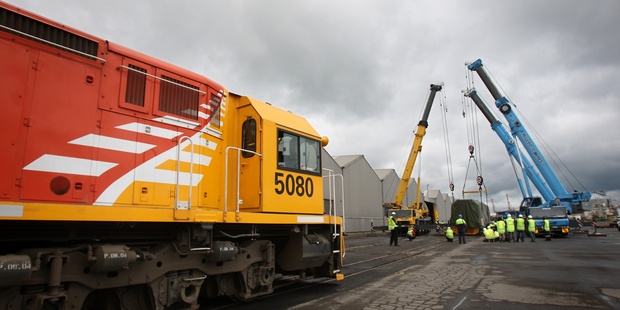 The Government's $4.6 billion KiwiRail turnaround plan is coming off the rails with State Owned Enterprises Minister Tony Ryall yesterday admitting the rail company is unlikely to find the $3.85 billion the plan originally called for.
Opposition MPs say KiwiRail's desperate search for savings is compromising the condition of the track and public safety, resulting in false economies such as the purchase of poor-quality locomotives and sleepers.
In response to questions from Labour's Phil Twyford, Mr Ryall yesterday confirmed for the first time that "there is little likelihood that KiwiRail will find the $3.85 billion projected in the original turnaround plan".
In addition to KiwiRail's $3.85 billion, the Government has committed $750 million to the 10-year plan to establish the company as a viable, self-sustaining freight-based business.
Mr Ryall said the rail company's business had been affected by the Christchurch earthquake, the Pike River disaster and the economic downturn.
Mr Twyford said the "unrealistic turnaround plan" had driven a whole series of decisions "that I believe are short-term and in many cases false economies".
"It's absurd they're laying off track maintenance workers at the very time when they need to be improving the state of the tracks so they can reduce journey times and compete more effectively with long-haul trucking.
"On top of that one has to think that a string of procurement foul-ups from the Chinese locomotives, the Chinese rolling stock and now these rotting Peruvian railway sleepers are a result of least-cost procurement decisions."
KiwiRail chief executive Jim Quinn yesterday confirmed that in addition to the 7000 Peruvian sleepers which had already been used and now have to be replaced, the rail company has a further 11,000 of them stored in quarantine in Lower Hutt workshops.