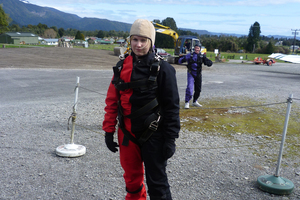 An aviation expert speculated today at the inquest into the Fox Glacier skydiving tragedy that the two fundamental causes of the crash were an incorrectly set tail flap and the plane being out of balance.
Four foreign tourists - Patrick Byrne, 26, of Ireland, Glenn Bourke, 18, of Australia, Annita Kirsten, 23, of Germany, and Brad Coker, 24, of England - along with four skydive masters Adam Bennett, 47, Michael Suter, 32, Christopher McDonald, 62, Rod Miller, 55, of Greymouth and the pilot Chaminda Senadhira, 33, of Queenstown, died when their Fletcher FU24-954 turbo-prop plane crashed and burst into flames shortly after take-off on September 4, 2010.
Barry Payne, who wrote a report on the crash, told the inquest in Greymouth today the plane's manual was inadequate for its use in skydiving, particularly in working out the centre of gravity.
Safety-critical information, such as the weight and balance data, should have been corrected in the manual when CAA certified it for skydiving.
A Transport Accident Investigation Commission report in May highlighted similar concerns.
Individually, the weight and trim problems would not have caused the crash, but together they might have. The mechanism for the trim had to be wound by hand, but if the plane was heavy at the rear the pilot would have needed both hands on the stick to keep the nose down.
Mr Payne accepted that the plane had carried nine other loads that day and 74 in total for the company, often with eight passengers, without incident, but he noted that the one aborted take-off on a previous occasion had been due to concerns about the stabilator trim (tail).
Several employees of Skydive NZ were to give evidence today.
Gregory Rowan, a tandem master with 32 years' experience and 6,300 jumps under his belt, had completed five jumps from the Fox Glacier plane on the day of the crash and was due to take part in the next flight. He watched the take-off and considered it normal until the plane reached about 80m, when it suddenly climbed straight up before flipping over and crashing to the ground in a fireball.
He ran 300m to the crash site but could not get near the burning wreckage.
Mr Rowan was aware that the pilot had on a previous occasion aborted a take-off, though he did not know why, and said the plane was functioning normally on the day of the crash.
Mr Senadhira was "a brilliant pilot, cool calm and collected ... very methodical".
Another tandem master, Rodney Davis, had worked with the pilot for eight years and said he had complete trust in him. Davis had completed 9,000 jumps, 6,500 of them as a tandem master. He was not working on the day of the crash but said that he had never experienced load shift in the plane.
It was the master's responsibility to ensure that he and his co-jumper did not move.
The inquest continues.
- Greymouth Star