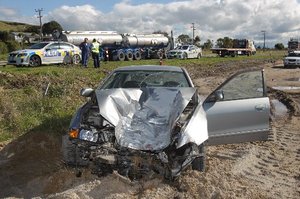 Stories making headlines across New Zealand at noon include a spate of antisocial behaviour by intoxicated Australians, a war veteran's home being defaced with swastikas and the damage a wheel from a large truck can do when it hits a car.
In Queenstown, anti-social drunken Aussies have nibbling on other peoples pies, getting naked, becoming grossly intoxicated and scrapping with doormen but local police are appealing to the media not to "blow this out of proportion". The nudity episode came during a Thunder Jet boat ride.
A complex which housed war veterans who fought Nazi Germany in World War 2 has been smashed up and defaced with swastikas and white power slogans on interior and exterior walls.
A man was driving near Tauranga when the wheels from a large truck came off and crushed the bonnet of his car and put him in hospital.
The youth rugby match at Wanaka was already going downhill rapidly when an "all-out brawl" involving about 15 players from both sides erupted, with the ensuing "uncontrolled aggression" resulting in police being called.

The Anderson family were distraught when Kharma, their happy four-year-old Rottweiler was stolen, but then the next day the dog was heaved back over the fence.
A tornado has torn a trail of destruction across the Karikari Peninsula in the Far North.
In an old weatherboard house at Hikurangi, a young mum is designing and making a must-have item for trendy young parents which are in hot demand all around the world.
Northland has a new TV star.
In Tauranga, they are pondering what to do with a wrecked container ship that remains stuck on a reef.
Western Bay principals are living in fear for the safety of their students.
After topping the pop charts in 1981 with his song The Bridge, Deane Waretini is planning a comeback.
Ngongotaha residents say willow branches cut and left to sit on the banks of a stream blocked the waterway and contributed to flooding.
Tokoroa has been subject to a small spate of aggravated robberies.
A woman lying on train tracks in Dannevirke has been run over and killed instantly.
It "chucked down" in Gisborne as well but was there a single grumble from the 13th Waimata Traverse? There are grumbles about the millions in flood damage done to Gisborne roads already this year.
Grey Power vice-president Tony Grant-Fargie is living proof of why St John Medic Alert pendants are a good idea for elderly people.
Seventeen-year-old Hatea Otene-Raukawa walked out in the middle of his shift at the Wattie's factory in Hastings on July 27 and has not been seen or heard from since.
On the opening day of the temporary Masterton District Court at the former Shoprite supermarket a man drove past several times trading insults with two men standing outside, before parking across the road and pulling out a large orange-handled knife.
Wairarapa secondary school students got "plastered" alongside a Masterton police officer yesterday.
Dozens of Tinwald people went "like lambs to the slaughter" to a meeting after which "life will never be the same".
If you want to survive Christmas financially intact, start planning now!
A former police detective yesterday admitted charges of fraud against the committee which organises a national Queenstown sevens rugby tournament.
Supermodel Rachel Hunter will visit Oamaru in November. Country music comedian Wilson Dixon will also visit.
Meanwhile the West Coast town of Blackball has been cementing its ties with the Communist regime in Cuba.
Top trending items on Twitter in NZ at Noon include: Ostapchuk, Valerie Adams, Facebook, Auckland, GOLD, #London2012, #Olympics, Harry, Join Twitter and New Zealand.
- Herald Online