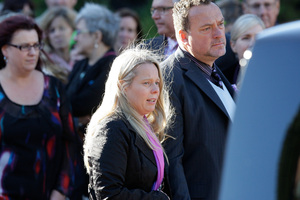 The parents of the New Zealand triplets killed in a Doha mall fire in May say they won't stand for the owners of the complex celebrating the reopening of the centre this week - "the equivalent of sweeping a crime under the rug".
Wellington parents Martin and Jane Weekes are calling for a boycott of the Villaggio shopping complex until their concerns are dealt with.
Lillie, Jackson and Willsher Weekes, aged 2, were among 19 people who died - 13 of them children - when the mall went up in flames, trapping those in the nursery.
Martin and Jane Weekes joined the parents of the other children killed - from eight different countries - in sending an open letter to the Doha News newspaper.
"To the editor, It is outrageous, hurtful and indefensible that the owners of Villaggio Mall would celebrate the reopening of the place where our 13 children died, especially given that we have not heard a thing about the investigation, have not been apprised of any meaningful reforms in the wake of the tragedy, nor received an offers of a just financial settlement."
The letter goes on to say that the owners of the mall should not be able to go back to business as usual, and the families would petition to the authorities to keep the mall shut.
"This is the equivalent of sweeping a crime under the rug and we won't stand for it."
The families said they hoped everyone would boycott the mall if it reopened.
"And we plan to take our campaign worldwide to ensure that potential tourists are aware of the Villaggio Mall's safety record and legacy of death and destruction," the letter read.
An initial report into the cause of the fire found negligence by many parties led to the deadly blaze.
It found the child care centre was not licensed by the ministry of Social Affairs, as required by Qatari law, meaning it did not have the safety measures in place which were required for a nursery.
Mall management told Doha News that despite hopes the mall would open this week, no official opening date had been set and it was still awaiting clearance from Civil Defence.
- APNZ