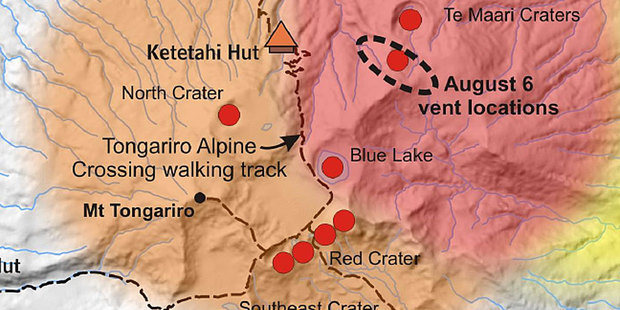 GNS Science has released a hazard map of the areas most at risk from flying hot rocks or pyroclastic mudflows should Mt Tongariro erupt again.
Surrounding and to the west and south of the Te Maari craters, where Tongariro erupted last Monday for the first time in more than 100 years, is the area at risk most from flying rocks and explosions from North Tongariro.
The area includes the Blue Lake, Red and North craters and the Ketetahi Hut.
Surrounding and to the north and east of the vents is the area most at risk of pyroclastic flows and/or mudflows, should the volcano erupt again.
GNS warned that many valleys on the map "may be at risk from hot, burning fast-moving pyroclastic flows, mud flows and lava flows".
"Stay out of all valleys in any eruption."
Scientists last week said there was a 50/50 chance the volcano could blow again, although it could be weeks away.
Heavy rain over the weekend caused a lahar (a volcanic mudflow), which spewed onto State Highway 46.
Scientists said it was not a volcanic-triggered lahar and was to be expected following the heavy rain.
The road reopened yesterday morning.
Tongariro remains at alert level two out of five and the aviation code is at yellow, with the volcano showing "signs of elevated unrest".
View the hotspot map here.