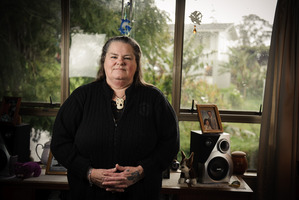 Forty-two women and children - those are the casualties of Stuart Murray Wilson. At least, those are the ones police know about. They were drugged and raped. Some suffered despicable indecencies and for some it went on for years.
Darlene Dalton is the only woman who got the better of the Beast of Blenheim.
When the Sunday show spoke to police who'd worked on the notorious case decades ago, they told us of a staunch, tattooed, take-no-prisoners kind of lady. "No airs and graces," warned former Blenheim detective Colin Mackay. She'd already been to jail for the attempted murder of a man who'd beaten up her sister.
Darlene is recently married and running a farm, and still has plenty to say about the night she squared off with New Zealand's most feared sex offender.
Darlene had been schoolgirl friends with a woman named Lorraine, a shy, stand-offish girl who had sadly fallen into a relationship with Wilson.
In fact, Lorraine was perhaps the person who suffered the most at his hands. She was repeatedly drugged and raped. She has facial injuries which a medical professional from Iraq recently likened to those of a casualty of war.
Darlene found herself living below Wilson and Lorraine in an Auckland block of flats. One night, after weeks of hearing screaming and violence from upstairs, there was a knock at the door. It was Lorraine.
"She was covered in blood," said Darlene. "Blood was coming down the steps."
Most people would ring the police, but Darlene reached for a softball bat and stormed upstairs.
Darlene tells Sunday how she confronted Wilson, who swore and told her to leave. Darlene's reply was to swing the bat into his head.
Wilson went down in a heap as she repeatedly struck him.
"I broke his arm, got him on the dome [head]," she told Sunday. "He was bleeding ... but I wanted more blood to tell the truth ... I wanted to kill him."
She probably would have if her flatmates hadn't intervened. But they couldn't stop her torching his car.
Darlene was never prosecuted for the attacks. "I think it was a retribution that everybody was quite happy about ... except perhaps him," observed former cop Mackay.
Darlene testified against Wilson at his trial in 1996 and said she was shocked to discover so many other women had been abused by him. But never again, she has vowed.
"If he gets out of jail, looks for Lorraine and hurts her I swear to you, I will kill him. I'm not scared of him."
Janet McIntyre's full investigation will screen tonight on Sunday, at 7.30 on TV One.