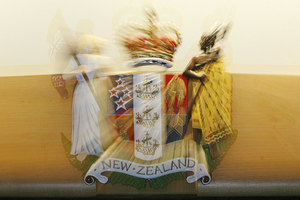 A father of 12 has been found guilty of assaulting three of his younger children, including twins under the age of two who were slapped in the face to make them stop crying.
The Weekend Herald has learned that his wife was also charged with assaulting the children, but she died soon after and her case did not get to court.
All of the children, aged between three and 15, are in the care of Child Youth and Family.
It has been revealed the family were "well known" to the agency.
The North Shore man, who the Weekend Herald has chosen not to name to protect the 12 children who share his surname, went on trial in the Auckland District Court last week.
He initially faced seven charges of assaulting some of his children - but one was dropped and he was acquitted of two others.
A jury found him guilty of the remaining four charges, two of assault on a child and two of assault with a blunt instrument.
The first two charges related to his twin sons, then aged under 2.
Police said the boys were slapped in the face "to get them to stop crying and go to sleep".
A third charge related to another of the man's sons, aged 5 at the time. He was "whacked" on the back with a cricket wicket.
The fourth charge was laid by the Crown and police said it was a representative assault charge.
Neither the twins nor the 5-year-old boy suffered significant injuries. But police said the man's actions were "well above" a standard smack.
He was remanded on bail until he is sentenced.
CYF alerted police after two of the man's older daughters, in their teens, told a school counsellor about the assaults on their younger siblings.
The mother died last year, a couple of months after the couple were charged.
"It's a horrible, horrible situation," a police source said.
"People close to the family say she died of a broken heart. But she died from complications from a pre-existing health problem."
The source said many of the man's extended family were angry at his daughters for alerting authorities.
He said the family situation was "really sad".
"Now they are splintered. The kids are split and all over the place ... under the care and protection of Child Youth and Family. It's just terrible,' said the source.
CYF northern regional director Sharon Thom said of the children: "They are all safe and well with approved caregivers or being cared for in the wider family.
"Child, Youth and Family has had previous involvement with this family, but was not working with them at the time the disclosure was made to the school counsellor."