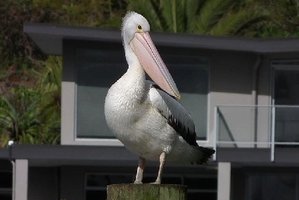 Stories making headlines in New Zealand at noon include strange lights over Bay of Plenty, a dog poo domestic that turned to custard and a West Coast flu remedy that involves whiskey.
Residents throughout the Eastern Bay of Plenty stood outside their homes and gathered near beaches last night to watch strange lights in the sky. They weren't from the rumbling volcano that experts say could erupt at any time with little or no warning.
Truckloads of twitchers could be heading to Northland after a lost Aussie bird showed up on the beach.
As the flu grips the nation, West Coasters are swearing by a popular local remedy which involves dissolving black-striped "blackball" sweets in whisky.
Jayden Allen Lombardi was having a domestic with his partner over who should pick up dog excrement from the kitchen floor and when the police showed up things "turned to custard".
When Tauranga Primary School student Lucy Crawford noticed a glow coming from under the bonnet of the family car, little did she know she was about to become a hero.
Having a debilitating lung disease has not stopped Esther-Jordan Muriwai being selected as a finalist for Ms Aotearoa New Zealand.
Hawke's Bay had an earth shake this morning.
It took a while but Hastings has its first major electronic billboard, and it is proving controversial.
When staff at Caltex Fix in Rotorua hit the panic button, a hooded man brandishing a knife who was trying to rob them went berserk.
A Dannevirke woman will soon to asked to explain the extensive cannabis growing operation in her home.
Damon Harvey says he witnessed a "gutless act of thuggery" on the rugby field.
This is how they will track The Beast.
Good Samaritan recipient Janet Hartell has taken on board calls from tens of thousands of people for her to pay forward the kindness shown to her.
The Rat Pack has been out on the streets of Gisborne. Meanwhile the number of dogs being destroyed in Gisborne has been described as "scary."
After 10pm, the 3-year-old girl awoke and searched the house for her mother. Not finding her, the child managed to open the front door and, wearing her pyjamas and socks, stepped outside into the freezing night and left the property still looking for her mummy.
Meanwhile a Wairarapa woman says she was forced to steal and forage in rubbish bins for food as a child while her sisters were fed normally.
Early tests on the ash from Mt Tongariro found moderate levels of soluable fluorine.
Michimasa Hirata was celebrating his 9th birthday when an atomic bomb exploded just 2km from his home.
One in five school children will apparently fail at school whatever the Government brings to the table, according to Tinwald School principal Peter Livingstone.
Does anybody know what Croatian is for "Where is my tractor?"
Dunedin hospital is full. Meanwhile is it right that nearly a quarter of University of Otago medical students in 2010 were from the richest 10% of homes?
Oamaru's Wayne Stringer was New Zealand's "Nazi Hunter".
Top trending topics on Twitter in NZ at Noon were: #FaveHighSchoolMemories, #TrueFactsAboutMe, #DontComeToMyHouse, #10ThingsIGetAlot, #spbkchat, #18ThingsIWant, #laughing, New Zealand, #Olympics and #London2012