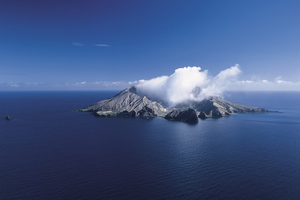 Ash spewing from White Island was yesterday falling on cars along Tauranga's coastline.
Authorities have been monitoring the volcano, which is about 51km north of Opotiki, since a series of eruptions began this week.
Yesterday it sprinkled ash as far as Papamoa Beach.
Robyn Keereweer, a shop assistant at Papamoa Four Square and Lotto shop, told the Herald she would have to wash her car when she got home.
"There's a very light bit of ash on my car bonnet. It's sort of whitey-grey. But when I put my finger on it, it disintegrates."
Locals this week took pictures of steam pouring from White Island, also known as Whakaari.
Scientists yesterday flew over the island to look at the eruption. Experts say black ash was reaching 3km above the active vent on the southwest corner of the volcano's crater.
GNS volcanologist Brad Scott said: "This is the first ash emission from White Island since February 2001 and represents the start of a new phase of volcanic activity at White Island."
GNS, which raised a volcanic alert for the island this week, warned people to take care if approaching the crater lake.