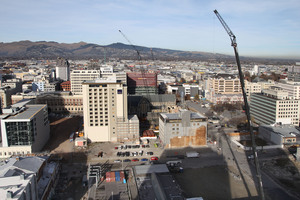 I suppose Jim Hopkins was merely doing what a satirical columnist is supposed to do - be satirical. But as I sat on a Friday evening, ironically in a much loved Warehouse polar fleece, I read with a sigh yet another attack on the 'planner', that faceless bureaucrat dedicated to slowing worthy development and making good citizens' lives just a little more difficult.
This time it would seem we were also 'irredeemably beige' people trying to make Christchurch in our slightly warped images, imposing much too much open space and lofty vision, derived it would seem from too much book learning and not enough exposure to heady neon lights and the joys of the mall and the Gold Coast.
I wondered at that point if Jim had ever actually met a planner, then remembered I had seen him MC-ing a planning and law conference so he must have met at least one or two.
I am a planner and have been one most of my working life, first as a practitioner and latterly as a planning educator and researcher. I've worked under the Resource Management Act and its predecessors, written plans, consulted communities and defended my advice at the Environment Court.
Now I try to inspire a new generation of young planners to go out and serve their communities with the commitment that marked my own and many many others' careers. That is very hard to do when planners become the easy target for journalist, politicians and anyone else who doesn't like what is happening in their community.
For the past 30 years or more planning in this country has been based on consultation with communities. That means endless days and night talking to anyone who wants to offer an opinion.
What people who so freely offer an opinion don't want to acknowledge is that their vision, their opinion is not necessarily the vision or opinion of everyone else. What planners do is to try to identify what will make the greatest number of people happy with the outcome now and in the future.
That is exactly what has been done in the plan for Christchurch that Jim clearly doesn't like, a plan by the way that would also have been contributed to by architects, engineers and landscape architects to name but a few. Are planners responsible only for the plans we don't like?
Planners make easy targets because few are able to reply to the often vituperative criticism heaped on them. They work for public organisations that don't allow them to reply or for employers that would prefer they keep their views to themselves given today's critic could be tomorrow's client.
It is the way of the world and has been most of my professional life. Like all professions we have good and bad practitioners, some that can bore and others that can inspire.
But planners are also people and most live in the communities they plan for and in a country as small as New Zealand they are likely to have shared many of your day-to day experiences.
They are the same people you might meet at the rugby, picking up their kids from school or just bump into at the local mall on a Saturday morning. We don't live in those mythical ivory towers that academics apparently live in - after all you can't construct those anymore, not with the RMA!
Like Jim they have a vested interest in getting things as right as possible because they, like him, will have to live with the outcomes.
So the next time you curse those planners just ask yourself how you would have done better, or better still remember that beloved adage of the rugby world - play the ball not the man.
* Dr Caroline Miller is an associate professor in the resource and environmental planning programme at Massey University, Palmerston North. These views are her own.